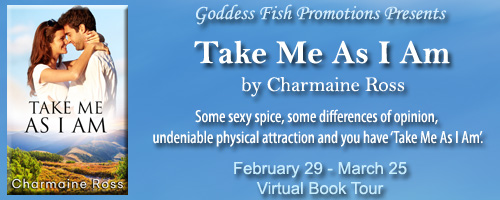 This post is part of a virtual book tour organized by
Goddess Fish Promotions
. Charmaine Ross will be awarding a copy of the e-book Take Me As I Am (international) to three randomly drawn winners via rafflecopter during the tour. Click on the tour banner to see the other stops on the tour.
My First Loves
Today, I'd like to talk about my first loves - I'm talking about the real – and slightly embarrassing - firsts.
I'm going to be honest. I have compiled a list of my first loves – the very first - that more or less I fell in love with in Primary School. Yes, I had eyes in my head even then, even if my tastes were somewhat to be desired.
I guess being a girl of about ten or so and having none-what-so-ever idea about men and anything that they entailed, I relied on my first point of call. The television screen. Yes, these 'real-life men' taught me a lot about what to expect when I started dating.
For one thing, I thought that all dates would consist of flying around the world in a super-sonic jet (at least), if not defeating a world-class villain or two. There might even be an inter-dimensional restaurant we might have stopped in for some refreshments during life-and-death duels because you have to be practical – you will get hungry doing all that stuff.
The 'men' that could accommodate me in said adventures were the following:
• Mark, from the five-member superhero team called G-Force from Battle of the Stars, who defend Earth and its space colonies from the threat of planet Spectra. I would settle for no less than being called on as the sixth member of the team and having the chance to also defend Earth shoulder to shoulder with Mark. I loved his big blue eyes that would see into my soul. Unfortunately, he was also a cartoon character. And before you judge, one of my friends also confided that she also fell in love with Mark, so I wasn't the only one.
• Buck Rogers from the eighties television series. On a date with him, which I now know could last a while, I would sleep the next five hundred years, run about in a skin-tight white body-suit, because didn't everyone from the future wear clothes like that, and go on big adventures in space and defeat the criminals of the future with good ol' fashioned thinking and wit.
• I also fell in love with Indiana Jones, and I will also mention his alter-ego Hann Solo. Or did I just fall in love with the young Harrison Ford – not sure. Adventure would also be on the cards on these dates and if I was lucky I might discover an ancient artifact or a remote village who had never seen white people before. Either one could happen, I didn't care which.
• Oh, there was also Flash Gordon from the movie in the eighties played by Sam J Jones. I just loved his washboard abs and blank eyes. Not much going on up top, but with a bod like his, who cares! – sigh. Content of our date? Adventure. Space. Defeating villains. The same old spiel.
Surprisingly enough I didn't have any crushes on real life boys at school. They were dirty and a little bit too smelly for my sophisticated tastes. No footy players (they were a bit muddy as well), no sports heroes, no real-life individuals at all. I was a girl with selective tastes and any boy who took me out on a date had to at least have a jet or a wormhole though time and space to entertain me.
Why did I crush on characters? Maybe because they were really, really safe for me to fall in love with. I could day-dream about all the things I could do to them, and they can do to me from the comfort of my couch.
The modern day me still reaches for the same safety my ten-year-old self did. There are dozens of characters in books and movies I go on adventures with nearly every day. For example Aidan Turner from his role in 'Poldark' – quite frankly have you seen that man without a shirt on! And yes, that was the sound of me scooping up my jaw from the floor.
I can devour him with my eyes open, dream about him with my eyes shut and travel the depths of the world and beyond. It all happens inside my head. Dating this way is also extremely safe. I can stretch my boundaries in any way I want and it all remains private. I stay in my safe place. If my daughter wants to date this way until she's thirty, I will be more than obliging.
I'm not saying that if Aidan Turner turned up on my doorstep with a space-craft and a star-chart I wouldn't go in real-life, but I'm older than ten now. I'm allowed to go on real adventures. It's my daughter's turn to mind-play and day-dream from a safe distance. I'd like to think she'll have her safe place for years to come and enjoy future books and movies, like her mother. After all, it's the best way to date!
And the truth is I'm not the only woman who does this. Millions of women around the world get a little buzz from the characters they discover and read in romances of all categories. Don't deny it!
That's the reason these books exist and grow in popularity each and every day. So enjoy these characters. Do things to them you wouldn't do in real-life. Go on adventures, claim your dreams. You're allowed to. After all, it's the safest thing you can do!
Thank you so much for having me here and I hope you've enjoyed reading a bit about me. As a thank you to your readers I'm offering two free fun and flirty novellas on my web site when you subscribe to my very sporadic email. I also have free sample chapters on my web site. It's worth a look@
www.charmaineross.com
.
Forget the whole billionaire tycoon thing: Kate Moore is a billionaire's daughter, and she knows first-hand that they're not all romance novel worthy. Her father is brilliant, inflexible, and brutal – and nothing she's ever done has been good enough for him. Her one chance to take over the massive Moore's Hotel Corporation is restoring the run-down Burnham Beeches in beautiful Sassafras to its former glory. To that end, she hires David Wright, a talented landscaper with an unparalleled eye for beauty and an unparalleled talent for distracting her from her goal.

David really needs this job. He needs the contract, the Moore's name on his portfolio, and the money to pay for his ailing father's health. Everything he's worked for is now within his grasp, and he's going to reach for it with both hands. What he doesn't need is the diversion, or the temptation, presented by his new boss.

Neither David nor Kate are free to follow their own desires, but they're powerless to fight their growing attraction. But they come from very different places; perceptions will have to crash, misconceptions will have to collapse, and they will have to face their own personal challenges before they find their space to meet in the middle.
Enjoy an excerpt:
Kate peeked out from her office window. David had done a lot in the past few hours, having marked out the skeleton of the garden. Unfortunately, the piece of ground he'd decided on meant he was all she could see when she looked out of the window.
She would catch herself, lost in thought as she watched his lithe movements outside. Every so often he would call out an order to his brother, Jack, as he'd introduced him, who would follow the instruction. Kate studied them both, comparing brothers. Jack was as lean as David, but he wasn't as tall. David a little darker with hair and skin tones. They looked similar, had distinct physical family traits, but he hadn't captivated her as much as David had.
Captivated. Was that what she was? As much as she pulled her attention back to the computer screen, her eyes kept returning to the window, as though they had a mind of their own. Each time she did, she'd notice something new about David. The way his calf muscles contracted when he bent, and the way his biceps seemed to burst when he carried something heavy. The way his skin glowed with sweat in the midday heat. His brother wasn't as fit, or as lean. Or as tanned. Or half as masculine. Kate bit her lower lip until it hurt.
Kate wondered if he would feel as hard as he looked. Would his skin be warm to the touch? Hot? Would each ripple of muscle undulate as smoothly beneath his skin as they looked?
Would she burn if they touched just skin to skin?
Kate sank her chin into the palm of her hand, feeling her lower belly melt. As she watched, David reached to the hem of his fitted T-Shirt and pulled it over his head.
She stopped breathing.
She didn't have to imagine his muscles any more. They were superbly on display. He was lean. Fit. And had a six pack to prove it. He had the perfect frame, broad shoulders, a clean chest that showcased perfectly sculpted muscle. Not the type that was designed in a gym, but the kind that was created from daily physical labour. His chest tapered into a trim, flat stomach. A hollowed line ran from the centre of his torso beneath his waist-band to much lower parts of his anatomy. A fiery thrill ran up Kate's spine.
'Who's the hunk?'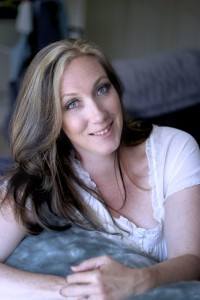 About the Author:
My first foray into romance was as a fourteen year old where I fell hopelessly and eternally in love with my hero as only a teenager can. Instead of watching movies and staying up late, I would go to bed at eight thirty and continue my very romantic, very safe, love affair.

Since then, I have fallen in love with many heroes, some less safe than what my teenage brain could possibly imagine. After earning a Fine Art's Degree, a Diploma of Secondary Education and a Diploma of Marketing, I worked as a Graphic Designer in various advertising agencies as well as in-house marketing roles and am currently involved with digital marketing and everything web in my current position. But I always return to writing.

Although I have travelled, I always return to my home town of Melbourne and live with my husband, two children and two cats in the ferny-greens of the Dandenongs. If I'm not working on my latest romance and falling in love with yet another hero, you'll find me reading, watching and basically indulging in my addiction to any story on any media type I can get my fingers on.
Check out my web site to download and read two fun, flirty novellas - the best news is they're free - plus free chapter downloads from all of my books, as well as updates on my latest news @
www.charmaineross.com
.
Website:
http://www.charmaineross.com
Twitter:
http://www.twitter.com/CharmaineRossAu
Facebook:
http://www.facebook.com/charmaine.ross.01
Pinterest:
http://www.pinterest.com/charmaineatt/
Buy the book at
Amazon
.
a Rafflecopter giveaway