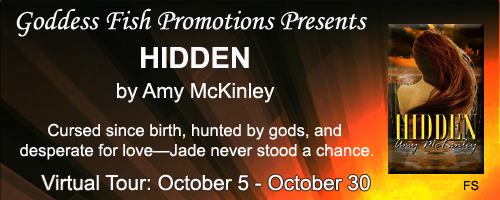 This post is part of a virtual book tour organized by
Goddess Fish Promotions
. One randomly chosen winner via rafflecopter will win a $50 Amazon/BN.com gift card. One randomly chosen commenter will receive a $50 Amazon/BN.com gift card. Click on the tour banner to see the other stops on the tour.
Amy, thank you for stopping by It's Raining Books. What are your favorite TV shows?
Modern Family and Big Bang Theory. There are several more that we DVR…X Factor, Ultimate Alaska, and Mike and Molly to name a few. Oh! And I actually like a few kids' shows too, but I won't list them here ;) (Lab Rats).
What is your favorite meal?
Pizza is a top contender because I don't have to make it. Or steak, mashed potatoes, and asparagus.
If you were to write a series of novels, what would it be about?
Well, I'm writing one now about five demigoddesses who are cursed by the Fates. They must find their unique key to unlock their individual curses or they'll become harbingers of death and destruction to the gods who will in turn kill their family.
Is there a writer you idolize? If so who?
I admire a number of writers for their ability to create engaging stories that hook me until the very end. The two I follow closely are Karen Marie Moning and Kresley Cole. I love their characters and storylines.
However, I read a lot of others that I absolutely love.
How did you come up with the title of this book?
Jade has to hide from the Oneiroi, the deadly dream gods, who hunt her. She and her sisters scatter across Earth to increase their odds, leaving the demon realm where they know the bloodhounds of the gods will search. Since her life is about hiding from these gods, and she's deeply unhappy about having to wear a glamour living among humans, that's how I arrived at the title: HIDDEN.
Cursed since birth, hunted by gods, and desperate for love—Jade never stood a chance.

Half-demon, half-goddess, Jade's fate makes her a pawn in an epic battle among the gods. Hidden on Earth with her sisters, she successfully avoids the Oneiroi—the dream gods—bent on her destruction until the prophecy, long dormant, awakens a dark shadow within her.

Roen, a reclusive Worr demon known for his battles against the Oneiroi, is called to protect Jade. Together they must unlock their mysterious connection and find a way to beat back destiny. Can she outsmart the prophecy, change her fate, and find love—even when she learns who is connected to her destruction?
Enjoy an excerpt:
Jade froze, her paintbrush hanging mid-air above her palette. An eerie, surreal frame was cast as light streamed diagonally through the bay window.
Whispers seduced and coerced.
She scanned the entire painting. The buildings cast long, ominous shadows, stalking the pedestrians as they made their way to and fro, huddled against the misery of the evening. A man lay sprawled, his lifeblood staining the sidewalk crimson. Half in a deserted alley, he was yet to be discovered. This was the detail Jade concentrated on. She blended a burnt red and used careful brush strokes to complete the scene as the portrait fell prey to the darkness that burned inside her.
Without meaning to, her gaze was once again drawn to the slain man. She reached up and touched the blood seeping from his body, coming away wet. Bringing her hand to her nose she closed her eyes and inhaled.
Instead of the cloying scent of her oils, she inhaled the coppery smell of blood.
Stunned, her mouth parted on a silent scream. No! Darkness bubbled to the surface, invading her senses with a roar. Unable to fight the invasion, her heart beat an increasing crescendo. Part of her didn't want to struggle, not with the temptation of death on her hand.
Deep inside, a macabre shadow stretched. Hungry for more, its long arms clawed for purchase with each breath. Changing her, as part of her argued for the better. The other part—the one that gloried in her fire-kissed hair and shimmering eyes—cried against this crime and screamed for redemption.
She crouched to welcome the demonic strength as the parasitic monster grew inside her. Evolving into a fierce predator, she was able to taste, weigh, and measure the souls who sifted through her fingers.
Still, she fought for space in her own body. For control.
But with the scent of blood, of death, of prey—she was losing fast. It's happening. Unshed tears burned her eyes. Finally. The curse of the three Fates had begun. With her.
Slowly Jade stood and bit down on her lip and welcomed the pain. The distraction would help fight the transformation. Dipping the brush into the Caribbean blue, she swirled then began to paint a shimmering cove. The vision soothed the beast that lurked just beneath, but it was temporary, and Jade knew its evil would soon rebel. The Fates' curse would change her over time, unleashing an unstoppable power within her, annihilating the gods who created her and anyone who got in her path.
Including her family.
Dropping the blue-tipped brush, Jade's back snapped straight and her mouth opened on silent scream. Succumbing to a surge of menace, she lost control. Every cell stretched to accommodate the new presence. Shivering from the effects of her altered state, she briefly shut her eyes, adjusting. When she opened them, her painting was before her, and she viewed the scene anew. Cocking her head, she closely observed a woman who tightly clutched her rain slicker about her body.
This one will not make it home tonight.
About the Author:
Amy McKinley is a freelance writer and author. She lives in Illinois with her husband, their four talented teenagers, and three mischievous cats. Her debut novel,
Hidden
is the first in the
Five Fates Series
.
Website:
http://www.amymckinley.com
Twitter:
http://www.twitter.com/amymckinley7
Facebook:
http://www.facebook.com/amymckinleyauthor
Pinterest:
http://www.pinterest.com/amymckinley7
Blog:
https://amymckinleyauthor.wordpress.com
Buy the book at
Amazon
or
Barnes and Noble
.
a Rafflecopter giveaway