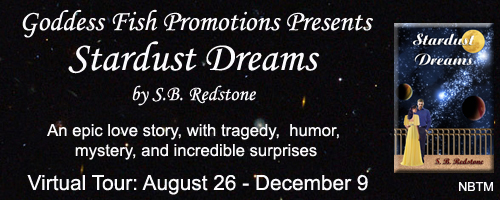 This post is part of a virtual book tour organized by
Goddess Fish Promotions
. S. B. Redstone will be awarding a $25 Amazon or Barnes and Noble GC to a randomly drawn winner via rafflecopter during the tour. Click on the tour banner to see the other stops on the tour.
Why do you write in your genre? What draws you to it?
Actually, I write in several main genres and add sub-genres to make my stories unique and more interesting. My first novel, not yet published, is a fascinating horror story, I've titled it Succubus Resurrection. It is historical with a romance sub-genre between the hero of the story and a victim's sister. My first published novel, A Sinister Obsession, through Black Opal Books is a mystery thriller, with a paranormal female detective who has a romance like none other you've ever seen or read about. Although I do love writing horror and mystery thrillers, where I can create powerful emotionally charged scenes and feelings, I found myself more interested in their complex romance sub-genres than the killer. So, as I typically do, just as I am finishing that novel, I'm preparing for the next. Then, an interesting thing happened. As a senior, with senior friends, I learned seniors read and they read a great deal. And what they care about is love, immortality, adventure, relationships, and excitement. My mind asked a question. What if? And my unconscious mind came up with Stardust Dreams, a love story that has a science fiction backdrop. I will finish by saying I love a good romance: Wuthering Heights, Love Story, Romeo and Juliet, and Casablanca to name a few. And I usually shed more than a few tears when tragedy strikes.
What research is required?
I have always had a great curiosity for astronomy and alien worlds. I probably watched every science fiction film ever made throughout my lifetime. I love to read books on astronomy, watch science shows on television, and read articles on the web. I loved Star Trek until it became the monster of the week. I really dislike horror movies where aliens come to Earth to dominate or just kill for the stupidest motivation. It is absurd to think that super advanced species, having the capability of traveling thousands of light years to reach us in a short period of time, would have blood thirsty intentions. It's illogical. With that said, I engaged in many hours of research for Stardust Dreams. Absolute realism was a must to make the story believable. I learned: the take-off speed of a jumbo jet, cryogenics, theories of light, rocket propulsion, necessary planetary conditions for life to develop, and ice ages to name a few. And I learned through my artist son who is a set designer that if you make an error, someone will discover it.
Name one thing you learned from your hero/heroine.
Follow your dreams. Make it happen. Don't give up. Lance, Sage, and Medora struggle to achieve their happiness. As a writer, it is so easy to give up trying to write a bestseller when success is so hard to achieve. We spend so many hours, months, and for some years writing a great story, then have it rejected by literary agents who dictate winners and losers for the traditional publishing industry. Once it's published by an independent publisher or self-published, if you don't just want it read by family and friends, you have to spend countless hours marketing your book, which isn't my expertise. However, if my main characters have the courage and fortitude to fight against the odds, so can I.
Do you have any odd or interesting writing quirks, habits or superstitions?
Ugh. No superstitions. I do have one compulsive behavior. I must play computer card games until I feel relaxed to put a word on the computer screen and I must win them no matter how long it takes to clear the cobwebs. Sometimes, it takes only about fifteen minutes and sometimes up to an hour. Once I am writing, I do take breaks and play a few more games of Free Cell to relax.
Are you a plotter or pantser?
I am both a plotter and pantser. I don't put any words on a computer screen until I've written the entire book in my head first. I need to know the beginning, middle, and ending to see if the story is feasible or not. The main characters, in general, are designed in my head as well. Once I have everything in place, I make a chapter by chapter outline in the computer as that is the strong foundation to build a great story. Then, my fingers type at high speed, letting my unconscious run wild creating details and in-depth personalities of the characters. As Michelangelo was said to have said, he simply freed his subjects from the marble, that's how I feel about the stories waiting to be freed in my mind.
Look to your right – what's sitting there?
A shrunken head! Gruel! A picture of the Titanic sinking! Not exactly! I am currently in New York for a couple of weeks where I have an apartment close to my kids and young grandkids. My wife and I hang out with them as much as possible. Then, it's back to warm Florida. I write in the living room, with big windows looking out on a bright and sunny southern sky. Never one to eat an early breakfast, I have a snack table next to me as I write on the sofa. On the table right now is my coffee mug, cookies, and a bag of salt free pretzels. Later chocolate candy will land there as well. Nothing exotic.
Anything new coming up from you? What?
The novel I am working on now is about a montage of lives centered around a magical fifty-five and over retirement community. If We're Sleeping, Don't Wake Us! is a romance, comedy (new genre for me), drama like a Neil Simon movie, Plaza Suite. It explores grand parenting, love, marriage, lost dreams, depression, and self-sacrifice. How would you feel, and how would your life change, if you woke up, looked in the bathroom mirror, and instead of seeing an old face, you saw a young face with the same look of staggering astonishment?
Do you have a question for our readers?
Of course. What draws you to read a book? It's cover? The synopsis? Price? Genre? Famous name? Publisher? Recommendation?
Lance Forrester is a dreamer. After a celebrated career as an astronaut and engineer, he and a friend build a secret spacecraft to seek their destinies in the stars. But his friend dies and Lance is diagnosed with terminal cancer. Desperate not to succumb to his fate, he convinces an acquaintance, ailing actress Sage Saint Claire, whom he hasn't seen since high school, to join him on his quest to reach an advanced alien civilization which can heal them both.

Unfortunately, true life is not a Hollywood movie, as much as Sage might want it to be, and problems abound. Mistakes in the past have turned Sage into a bitter old woman, and she turns out to be a less-than-perfect traveling companion which no amount of optimism, youth, or good health can cure. Can these two intrepid octogenarians-turned-immortals overcome the emotional scars of their pasts and achieve true happiness, or are they doomed to suffer for their mistakes, no matter how far from Earth they go?
Enjoy an excerpt:
I knew that the truth in my heart reflected in my old, weary eyes. "Yes, I do. Look, I'm no slick-talking salesman, as you can see. I'm just a scientist and engineer, but I truly believe there is a statistical probability of success. But even if I'm wrong, and our voyage ends up to be pointless, so what? Think of the fun you'll have. Imagine the excitement and wonders of space travel that come before our long sleep."
I paused to dramatize my resolve and let a burst of quixotic energy erupt from me. "Cherish the adventure!"
It wasn't her fears that I was battling against, but a lifetime of distrust. My confidence in a successful mission collapsed.
"Of course, you have no reason to believe a word of what I've told you. You don't really know me, except through my noted accomplishments. But I can't disappoint you because I'm only offering friendship and hope." I pushed my point harder.
"Sure, we can die here on Earth. We can die in space. Or we can awaken on a remote and caring world that saves us! We are the captains of our fate, not the Grim Reaper—yet!"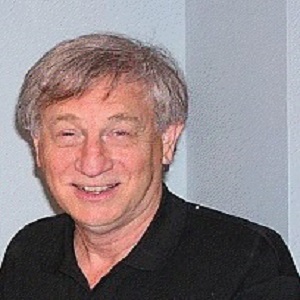 About the Author:
Steven Rosenstein, penname S. B. Redstone, had a career as a school psychologist and private practice Licensed Clinical Social Worker on Long Island. Always seeking the truths of human nature, he wrote a personal improvement book, Taming Your Inner & Outer Bullies: Confronting Life's Stressors And Winning, published by New Horizon Press Books. He has written articles on human nature and relationships, given lectures, and appeared on radio shows. Always having a vivid imagination, he first became a successful writer of short stories. His mystery thriller, A Sinister Obsession, was published by Black Opal Books. As an expert in the field of human psychology, he has an exceptional ability to develop realistic and exciting characters in his novels. Many of my characters have been taken from his clinical experiences. Stardust Dreams is his first romance novel, although romantic relationships stand out in his other works. He is a member of the International Thriller Writers Org and Romance Writers of America. He resides with his wife in New York and Florida.
Website:
Website
Twitter:
https://twitter.com/sbredstone
Facebook:
https://www.facebook.com/steven.rosenstein1
LinkedIn:
https://www.linkedin.com/hp/?dnr=R9edkGJYR_ZoaLFGR9iocL3vQ3ZFzLg5XD3e&trk=nav_responsive_tab_home
Goodreads:
https://www.goodreads.com/author/show/5336425.S_B_Redstone
Google+:
https://plus.google.com/u/0/112531054226952285537/posts
Buy the book at
Amazon
or
Black Opal Books
.
a Rafflecopter giveaway