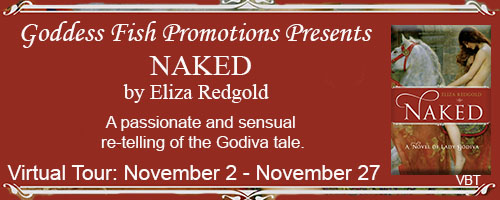 This post is part of a virtual book tour organized by
Goddess Fish Promotions
. Eliza Redgold will be awarding a $20 Amazon or Barnes and Noble GC to a randomly drawn winner via rafflecopter during the tour. Click on the tour banner to see the other stops on the tour.
Five Things I Learned From Writing
By Eliza Redgold
Writing makes me braver. It has inspired adventures (and misadventures) in travel, nature, art, literature and even gastronomy. I hope my books will inspire you too! They're for people who love a good story, but want to discover new things. They also feature adventurous heroines who are prepared to take risks in life and love. Though in life and in love, of course, things never go quite as planned …
1. I wrote a novel about Lady Godiva's famous ride … but before
NAKED: A Novel of Lady Godiva
I couldn't horse ride. So I took some lessons. I'd love to report that I became a brilliant horsewoman like my heroine Godiva but I got worse instead of better. It didn't matter, because I took lessons at an amazing therapeutic riding center that caters for young and old, able-bodied and disabled riders alike. The people I met were absolutely inspiring. I learned some life lessons – not just riding lessons.
2. I wrote a novel about truffles … but before
Black Diamonds
I'd never tasted one. Western Australia, where I live, is a wine region, but I didn't know it was also a truffle region until I started my research (yum!). When the novel was accepted my husband and I were so thrilled we threw caution (and savings) to the wind and flew to France to explore the other location in
Black Diamonds
in the south of France. It was one of the most delicious trips of my life.
3. I wrote a novel about the birds (and the bees) but before
Hide and Seek
I'd never been bird-watching. To my own astonishment and that of my family, who soon joined in, I became a birder and discovered the extraordinary birdlife in the Australian bush, in particular in Broome, the gorgeous
Hide and Seek
location on the north coast of Western Australia. Birds are all we have left of the angels, it's said, and appreciating them adds a heavenly dimension to life. Now, I'm always wishing I had my binoculars.
4. I wrote a novel about orchids … but before
Wild Flower
I never noticed them. Soon, like the hero of
Wild Flower
I got orchidmania! Now I stop and breathe in the scents of tiny rare, tiny orchids I would previously have stepped on or walked on by, but I don't pick them (if you read the story you'll find out why). The other location in
Wild Flower
is Singapore, where I've often visited to give lectures. It's an orchid hot spot, yet I'd never visited the famous, orchid-filled Botanic Gardens. It's now a regular stop on my itinerary.
5. I wrote a novel about an artist … but I can't paint. I'm an art lover though and while writing my Victorian romance
Enticing Benedict Cole
(out in November 2015) about a lady, an artist, and a secret passion, I researched the works of the Pre-Raphaelites. The beautiful, romantic Pre-Raphaelite paintings are some of the most familiar artworks in the world. You'll probably have your favorite - get in touch and let me know what it is! Now, where's my paintbrush …
We know her name. We know of her naked ride. We don't know her true story.

We all know the legend of Lady Godiva, who famously rode naked through the streets of Coventry, covered only by her long, flowing hair. So the story goes, she begged her husband Lord Leofric of Mercia to lift a high tax on her people, who would starve if forced to pay. Lord Leofric demanded a forfeit: that Godiva ride naked on horseback through the town. There are various endings to Godiva's ride, that all the people of Coventry closed their doors and refused to look upon their liege lady (except for 'peeping Tom') and that her husband, in remorse, lifted the tax. Naked is an original version of Godiva's tale with a twist that may be closer to the truth: by the end of his life Leofric had fallen deeply in love with Lady Godiva. A tale of legendary courage and extraordinary passion, Naked brings an epic story new voice.
Enjoy an excerpt:
If the rider heard he made no sign. Clad in a silver helmet and armored in brown leather, he galloped under the arches, my warning ignored. His great black horse circled the courtyard, raising dust as he halted in front of the steps.

For a moment he didn't move. Nor did I, except to tighten my fingers on the handle of my blade.

He lifted off his helmet.

A pair of piercing eyes met mine.

This is not Thurkill.

The knowledge flashed into my brain. The man in front of me was tall and strong. Many years younger than my father, perhaps thirty years of age, his face a tanned brown. His hair, tawny as an owl wing, fell to the studded collar of his armor, its leather stretched across his shoulders.

He spoke. "You are Godiva."

Hawk high I lifted my head. "I am. Who are you? Why have you come to my lands?"

Dirt swirled in the air as his horse hoofed the ground. River deep turned his gaze as he took me in, lingering on the thick braid that fell over my shoulder to brush to my thigh.

"Well?" A flame flickered though me, hotter than fear. A flame I'd never known.

"Who are you?"
About the Author: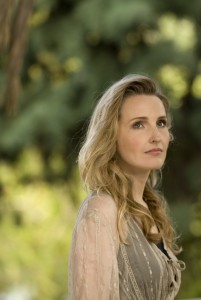 ELIZA REDGOLD is an author, academic and unashamed romantic. She writes historical fiction (St Martin's Press) and romance (Harlequin).
NAKED: A Novel of Lady Godiva was released internationally by St Martin's Press New York in 2015. Her 'Romance your Senses' series of contemporary romances are published by Harlequin. They include Black Diamonds, Hide and Seek and Wild Flower. Eliza is also contracted to Harlequin Historical for two upcoming Victorian historical romances. Look out for Enticing Benedict Cole in November 2015.
Eliza Redgold is based upon the old, Gaelic meaning of her name, Dr Elizabeth Reid Boyd. English folklore has it that if you help a fairy, you will be rewarded with red gold. She has presented academic papers on women and romance and is a contributor to the forthcoming Encyclopedia of Romance Fiction. She was born in Irvine, Scotland on Marymass Day and currently lives in Australia.
Twitter:
http://www.twitter.com/ElizaRedgold
Facebook:
http://www.facebook.com/ElizaRedgoldAuthor
Pinterest:
http://www.pinterest.com/elizaredgold
Website:
http://www.elizaredgold.com
Buy the book at
Amazon
or
Barnes and Noble
.
a Rafflecopter giveaway