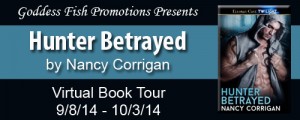 This post is part of a virtual book tour organized by
Goddess Fish Promotions
. Nancy will be awarding a $50 Amazon GC to a randomly drawn winner via rafflecopter during the tour. Click on the tour banner to see the other stops on the tour.
Five Things About Nancy Corrigan
I don't talk about myself very often. I'm not exactly shy but my parents stressed humbleness and humility growing up. Their lessons are still ones I cling to so I don't really share much about me unless someone asks me a specific question. So, today I'm going to share some stuff about me.
1. My most embarrassing childhood moment. In elementary school we had those hard plastic chairs that were horribly uncomfortable. I used to tip the chair back against the desk behind me and prop my feet on the metal ring under my desk. Everyone did. It was the thing to do-lol. Anyway, one day while wearing a skirt, my chair fell completely backward and I ended up with my ugly plaid skirt over my head. I was horrified to have flashed everyone my undies.
2. I'm slightly OCD. Well, my husband would call me OCD. I'd describe myself as being hyper-aware of details. Sounds better, doesn't it? :-) Some of my quirks include checking my alarm to make sure it's set to the right time. Everyone does that at least five times, right? Okay that one might be a little OCD, but checking to see if my credit card and phone are in my purse once I get home from anywhere certainty isn't. And if I check again five minutes later, that's not odd. I'm just making sure.
3. My fashion sense is well…casual or maybe eccentric. Unless I'm going somewhere (the grocery store doesn't count), my outfits consist of the first two things I pull out of my dresser. I figure I don't have anyone to impress. And since most of my wardrobe consists of black and gray, I'm usually good to go!
4. Unless I'm writing or focused on whatever task I'm doing, I have the attention span of a two year old. My mind wanders. I'm always working scenes through my head or characters are demanding their story be told. I often come up with my greatest breakthroughs while daydreaming.
5. My most irrational fear is of ladybugs. I know they're cute, but I always freak out when they land on me. My fear started as a child and worsened when I lived in Delaware. My house was swarmed by them. I had to open my front door and run to my car. It gave the neighbors something to laugh about at least.
Do you have any OCD habits or irrational fears?
Tainted from birth, Harley lives a life cloaked in darkness and temptation. She resists the lure of her evil legacy by holding the memory of her ghostly savior close. Every night without him is agony. She fantasizes about him and yearns for his body, but he's not the protector or lover she's envisioned. He's a Hunter bred to eliminate her kind. He's also her only hope of salvation.

Calan, the leader of the Wild Hunt, was created to protect mankind from the Unseelie Court. For a millennium, he's sacrificed to ensure the horrid creatures remain in the Underworld, but his strength wanes. He must rely on his enemy's daughter to save him, but he doesn't expect the intensity of their lust or love. Her touch calms his wild nature and ignites his carnal desires. He'll risk all to save her, but doing so forces him to make the ultimate sacrifice, one that'll damn him to suffer forever in his own living hell.

A Romantica® Paranormal erotic romance from Ellora's Cave
Enjoy an excerpt:
"You." She swallowed hard. "It's you."
"Yes. It is." A long moment passed where they held each other's gazes. Finally, he released a shaky breath she felt skim over her cheek. She pressed her palm to the sensitive skin to hold the warmth close. "You never returned to me."
She'd tried. Raul had stopped her. She'd escaped a near rape at his hands by stabbing him but afterwards she hadn't been quite…right. It was as if his touch had dirtied her.
She wrapped her arms tight around her chest and pushed the memory away. "I ran just like you told me to."
"I also told you to come back. You promised you would."
Guilt choked her for breaking her vow too. She looked away. "Yes, I did."
The feather light stroke of his fingertips along her cheek quickened her breaths. Her body reacted to the simple caress as if he'd touched her intimately. Her breasts pebbled and warmth pooled low.
"No matter. I'm glad you finally did. I need your help."
"What are you talking about?"
"You remember all the knowledge I shared with you, correct?"
She remembered. He'd forced information into her brain she hadn't known what to do with. Within one heartbeat and the next, she'd learned everything she'd needed to know about how to avoid falling victim to the redcaps and sluaghs. He'd also implanted a compulsion to have an obsidian blade made that had become her constant accessory. She never left the house without it. It was the only thing that could kill the fairies' creatures.
She forced herself to nod. "Yeah, you saved my life."
"I thank the gods for that, little female. I was right about you. You are the key."
"The key to what?"
"You will be the one who will unlock me from my prison and allow the Wild Hunt to ride again."
Buy the book at
Amazon
,
B&N
,
Ellora's Cave
,
Amazon-ca
,
Amazon-uk
, or
Amazon-au
.
Add to your Goodreads TBR list!
Hunter Betrayed
About the Author: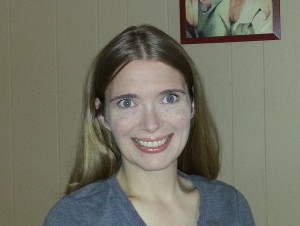 Nancy Corrigan believes in unending love and epic tales with a paranormal flare. She enjoys transcending the boundaries of reality to take her readers on an erotic, emotional and romantic journey.
She resides in Pennsylvania with her husband and three children. When she's not weaving sizzling fantasies, she works as a chemist in a pharmaceutical lab.
Website
Newsletter
Facebook
Twitter
Pinterest
Goodreads
Youtube trailer