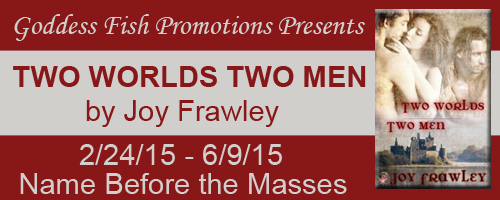 This post is part of a virtual book tour organized by
Goddess Fish Promotions
. Joy will be awarding $25 Amazon or B/N GC to a randomly drawn winner via rafflecopter during the tour. Click on the tour banner to see the other stops on the tour.
Five things you'd never guess about me….. By Joy Frawley
When I was a child I had this vision of what a writer looked like. This vision included dusty old men with white hair dangling a pocket watch from their button down vest. Yes, I know. I had quite the imagination. Yet that same imagination served me quite well when I decided to write my first book Two Worlds Two Men.
That being said, if you guessed that the first thing I was going to share about myself was a twisted sense of humor than you are correct! My odd humor is a legend unto itself to anyone who knows me well. I recall trying to reign in my political incorrectness due to worry about what others would think. Hence, much like straightening my wild black locks, the effort was useless. I've since given up trying to hold back my observations about the humorous sides of things mostly because I think the world needs more of it. Twisted or not.
I also have this odd attraction to color in my kitchen. I have a gorgeous collection of multi-colored ceramic bowls I adore filing with fruits and vegetables. Then I proudly display it on my counter much like a mother bird coddling her first born chick. For some reason the mere sight of fresh food inside colorful bowls makes me smile. I guess I'm a sucker for a lime green bowl filled with orange and yellow peppers. It's downright beautiful. Either that or I'm deranged.
Dogs are my thing. Plain and simple. Some are cat people, however, I am a dog lover through and through. My dogs, Piggs and Diggs, bring a lot of pleasure to my life. It always amazes me how much a part of the family our pets become.
Flowers are never out of style. My sexy boyfriend brings me flowers on a regular basis. He gets an incredible amount of brownie points for this too. I've read that some women have no need for flowers and actually dislike getting them! Not me. I find their scent, color, and shape an all-around pick me up. For future reference, I'll be more than happy to take any unwanted flowers off your hands.
Cobalt blue glass on the windowsill is downright gorgeous. I have accumulated several cobalt blue items over the years that consistently rest on my windowsills. Whatever the season that bold color enhances whatever is behind it. If I have snow the blue delivers a contrast so incredible I often find myself standing still and just looking at it awhile. If it's a warm day the blue manages to bring a sense of freshness to my eyes as the rays of sunshine radiate through the glass. It doesn't matter if it's a long lean bottle or a funky paperweight if it's cobalt blue glass it has got to be good!
So there you have it. Five things you didn't know about me. I would wager some of you wish you still didn't know these five things while others are running out to the nearest flea market for colorful bowls. Like I said it's downright beautiful. See? There's that twisted sense of humor again.
Jocelyn and Neely are having a perfectly pleasant dinner at the Sheep Heid Inn when it happens: Jocelyn suddenly finds herself sitting across the table, not from Neely, but a strange man dressed in medieval garb. This man is no apparition. His eyes, the deepest brown, clearly look on her in intimacy; his touch causes her pulse to rise. Jocelyn realizes two things: from his clothes, he is clearly an aristocrat, and that she, Jocelyn Stewart, seems to be in some sort of romantic relationship with him! Minutes later Jocelyn returns to Neely, in the present day, weak and terrified. Together they begin to unravel the forgotten past and find themselves facing the reality of medieval Scotland. A strange world steeped in folklore and superstition; where life begins and often ends with the sword. As Jocelyn travels back to medieval times she learns that the man she keeps seeing is no other than Sir Colin Campbell of the powerful Campbell Clan. When Jocelyn is with Colin, she wants never to leave his side; then she returns to the present and cannot imagine herself with anyone but Neely. Jocelyn struggles with a choice. Which man will gain her heart when both offer such different love? She is in love with two different men in two different worlds.
Enjoy an excerpt:
Jocelyn looked around for the driver who was supposed to be waiting for her arrival with a sign. She had hired someone to pick her up because, as an American and first-time visitor to Scotland, she had figured it would be less stressful.

She didn't see the driver anywhere; then, just as she started feeling nervous, she saw a man holding a sign with her name on it. And what a man he was! He was broad shouldered, strong and had dark brown hair with reddish tints. He exuded masculinity like some cologne, and even across the airport, she thought she could smell it. Smoothing her unruly hair, she started to walk over to him.

The man, seeing her approach him, took a step toward her. "Are you, Jocelyn?"

When he spoke her name, she found herself frozen in place unable to respond. She'd heard this voice before; she knew this voice. This man spoke her name exactly like the dream she had had all those years ago! She had been stirred awake in bed by a voice of a man, who spoke her name with a Scottish accent. His voice was gentle and low; as if he wanted to gain her attention, but not cause her alarm. Jocelyn had clutched the sheets to her chest and stared out into the darkness of her bedroom almost feeling his intimate presence beside her. She lifted her hand up to her ear having sworn his warm breath had brushed her skin. Jocelyn remembered she had turned her head, anxiously, toward the pillow next to her and almost thought she would be looking into the eyes of a stranger; yet she had not been frightened. This man, his voice, somehow comforted her.

Now, she stood in the airport and caught her breath as she faced the man before her. Her eyes searched his face for something; though what it was she wasn't sure. Jocelyn felt her heart beating so fast she was certain the man could hear it as memories flooded her mind of that night so long ago when he or someone spoke her name in the darkness. Was that the reason for her vacation to Scotland? Was she unconsciously trying to find the man?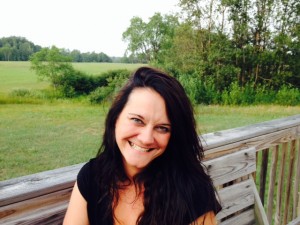 About the Author:
Joy Frawley is an author and writer of the upcoming romance novella; Two Worlds, Two Men due to release on October 2014 by Resplendence Publishing. Joy lives in beautiful Traverse City, Michigan relishing in living the life of the classic "townie" with her two dogs Piggs and Diggs.
http://www.joyfrawley.com
https://twitter.com/joyfrawley
Buy the book at
Amazon
,
Barnes and Noble
, or
Resplendence Publishing
.
a Rafflecopter giveaway