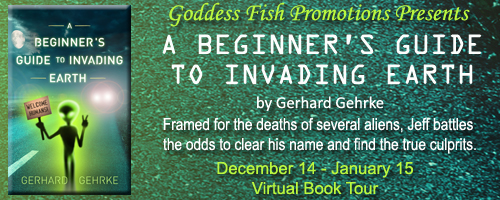 This post is part of a virtual book tour organized by
Goddess Fish Promotions
. Gerhard Gehrke will be awarding a $10 Amazon/BN GC to a randomly drawn winner via rafflecopter during the tour. Click on the tour banner to see the other stops on the tour.
Five Things You Might Not Know About Gerhard Gehrke
1) I love telling people that I used to work for the FBI. While building up my client list for my business I took on a janitorial account that included the local FBI field office. This meant getting finger-printed and having to clean their office while being supervised. It also meant that I got to know some of the agents and got a window into their world, which mostly consisted of tons of paperwork and lots of shredding. But I also got to see evidence from at-large bank robbers (bikes mostly) and hear stories about the embassy bombing investigations in Dar-es-Salaam. And one of the agents told me that he got into trouble for plinking pigeons in [a local city] with a .22 rifle while on duty.
2) I missed part of kindergarten and first grade. We were moving around (when young, obviously) between the United States and West Germany, and by the time we were in a situation where we could enroll in schools we moved back to the USA. This explains certain key gaps in my education. As an added bonus my later elementary school teachers convinced my parents that a home should be single language, so they stuck to English and my German skills atrophied. But I still have problems with spelling anything with "ie" or "ei" in English as the pronunciation is often inverted from German.
3) I love bugs, snakes, and find most creepy crawly things fascinating. When my wife and I go hiking we enjoy finding and photographing these, along with birds and more popular wildlife. This becomes a springboard for learning more about what we find, as I enjoy identifying our finds and learning about them. Did you know pillbugs breath through a mechanism similar to gills and that they can drink out of their anus? And if they're blue or purple, they're sick. But as a kid we would collect them and drown them in what my sister and I called nature soup.
4) We adopted two cockatiels from various sources. This is like taking on a child which will stick around for up to thirty years. The second bird was given to us by a friend who kept it in a mostly dark room for seven years. We are busily trying to socialize it and are having good success. It eats my almonds at my desk while I write. Meanwhile, the first one sits on my foot sleeping. My posture while writing is horrible as I juggle ornery birds that squawk, squabble, and chew mouse and keyboard cords.
5) File this under either oversharing or confessions. I was a bad influence on at least one high school friend. Brenda (name changed for reasons etc.) loved to drive fast and I encouraged her to speed through this underground parking lot that was flooded and slam the breaks so we could hydroplane across the water's surface. The first run was perfect and maybe too much fun. When we went again, we slid into a concrete pillar and smashed her car's front end. I gave her the story to tell her dad that we were avoiding a dog on the road. She told him, and he believed her. I consider this my first successful story submission. The next day her dad had her take him to the spot where we "almost hit the dog and had the accident." By luck she picked a light pole that had a big enough scrape that might have been her car. We also both almost put each others' eyes out on different occasions, and she fell onto a broken wine bottle when we found out she should never drink alcohol. Now I'm feeling guilty again.
What would you do if you found a dead alien on a lonely highway?

Was it an accident, sabotage, or murder? And why is everyone blaming Jeff?

The extraterrestrials aren't waiting for answers. They want revenge. And Jeff isn't ready for company.

His only hope is an outcast mechanic from another world and a woman who might do anything to get off planet, including selling out her own kind. Jeff has to get to the bottom of why there are so many alien bodies piling up and who is really responsible.

A science fiction adventure novel, A Beginner's Guide to Invading Earth tells the story of a reclusive ex-computer programmer who is the unwitting central figure of a plot to keep humanity from ever making first contact.
Enjoy an excerpt:
First contact with the humans wasn't going as planned, as was obvious by the rank smells that choked the air of the alien visitorsʹ craft. But no one called them aliens where they came from.
Seven little Greys, short bipeds with large heads and big eyes and delicate limbs, sat in the flight seats of their ship's crew compartments and listened as the Mission Commander lectured them from the Command Module. The harangue lingered in the air, not as words or even sounds but as a smell, a ripe one replete with pheromones and scent packets that the Greys used to speak with one another. A new string of curses from the Commander's glands smelled of licorice. The Mission Commander composed itself. It wiped sticky sweat from its hairless frontal lobe.
The lights and displays in front of the seven crewmembers blinked and flashed. No one would so much as touch a button until the Commander was finished addressing the crew.
"I'll hear no more of it," the Commander said. "We're on the human world. We go forward. Probability calculations for success show at 100%. The computer will be trusted."
About the Author:
Gerhard Gehrke studied film at San Francisco State University. He wrote and produced several shows for community television. His Science Fiction, Fantasy, and Horror short stories have appeared in several publications, including an Editor's Choice-winning short story at AnotheRealm.com. A Beginner's Guide to Invading Earth is his first novel.
You can connect with him at
GerhardGehrke.com
.
Twitter:
https://twitter.com/gerhardgehrke
Facebook:
www.facebook.com/gerhardgehrkeauthor
Blog:
www.capriciousnarrator.wordpress.com/
Amazon:
http://www.amazon.com/s/ref=nb_sb_noss?url=search-alias%3Daps&field-keywords=a+beginner%27s+guide+to+invading+earth+
Barnes and Noble:
http://www.barnesandnoble.com/w/a-beginners-guide-to-invading-earth-gerhard-gehrke/1122581957
Also available on iBooks
Link to YouTube Trailer:
https://www.youtube.com/watch?v=xwExDzGD6Js
a Rafflecopter giveaway