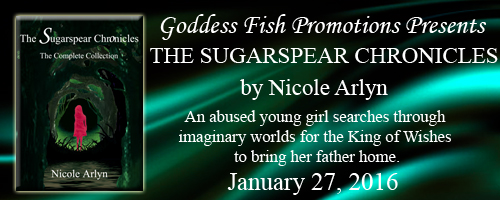 This post is part of a virtual book tour organized by
Goddess Fish Promotions
. One randomly drawn commenter will win the prize described in the Rafflecopter. Click on the tour banner to see the other stops on the tour.
FREE BOOK TODAY ONLY!
The Sugarspear Chronicles, the incredible twenty-six-novella saga that started with a little girl and her willow tree, is finally available in one complete collection.

The Sugarspear Chronicles: The Complete Collection is the story of young Sadie Sugarspear, a girl who endures intolerable abuse by reading about a fantasy world filled with incredible sights and outlandish people—a place she's only ever encountered through her real father's storybook.

One day, when the cruelty becomes too much to bear, Sadie runs away and hides inside her beloved willow tree. To her surprise, the tree opens, sending Sadie down into the abyss, into a land she's only ever read about—where she must being a long, terrifying, and heartbreaking journey home.

Readers can now enjoy the entirety of author Nicole Arlyn's dark fantasy saga in one complete book. This complete collection also includes a note from the author detailing the inspiration and events that led to The Sugarspear Chronicles.
Enjoy an excerpt:
"A big treasure chest of something. In a fresco on my ceiling that was moving, alive, like the things I have written. Art, it comes to life, imagination, it comes to life, and it all becomes a part of truth, or it all gets burned or hidden, or it gets more beautiful, and I don't know anymore even what is the truth I am too lost in you. But you'll see, if you go, somewhere inside you, if you come with me, come with me to Revelathia. There, nothing is illusion. It's all life."

"Revelathia is an imaginary place, Sadie, a place that people make up so they can feel better, like my mother did."

"And like I did." She waited for him to respond but he didn't. "Why did you give me the map then? You told me it was a real place."

"Sadie was a child, lost and alone, she needed comfort she needed to believe. All she saw were thorns. I wanted to show her something else."

He walked towards the mountain and leaned against it, picked up a rock and threw it. He wouldn't look at her. Her teeth began to chatter. She was colder than it was cold out.

"Why are you so mad after we loved each other like that?" Sadie said. "Why do people do things like this? Ruin love with fear."

His face was out of the moonlight.
About the Author: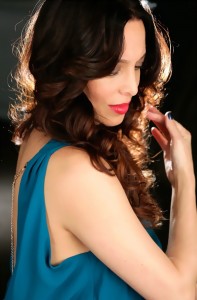 Nicole is a writer and an actress born in Brooklyn, New York. She has worked in films such as Clay Pigeons, opposite Joaquin Phoenix; The Wedding Planner; and Brooklyn Bound, among many others. She has performed, written and directed theater productions in New York, Los Angeles, and Europe. She has also read her poems in many poetry lounges in Europe and America, and is a song lyricist for musicians.
After living in Rome, Italy, for the past several years, Nicole has returned to New York City where she lives with her husband and son. She is at work on more novels.
Author Page:
http://fullfathomfive.com/writers/nicole-arlyn
Facebook:
https://www.facebook.com/NicoleArlynAuthor/?fref=ts
Twitter:
https://twitter.com/NicoleArlyn
Website:
http://www.thesugarspearchronicles.com
Goodreads:
https://www.goodreads.com/author/show/7315359.Nicole_Arlyn
Author Website:
https://nicolearlynwrites.wordpress.com
FREE at
Amazon
.
a Rafflecopter giveaway