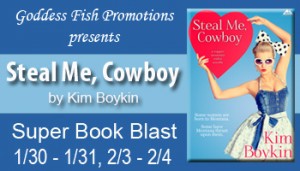 This post is part of a virtual book tour organized by
Goddess Fish Promotions
. The author and publisher will be awarding a $15 Starbucks card, Valentine mug, and yummy candies to a randomly drawn commenter during the tour (US only). Click on the tour banner to see the other stops on the tour.
Unbeknownst to her boyfriend, Sassy South Carolina hairstylist, Rainey Brown, is headed to Missoula, dead set on giving her minor league baseball player boyfriend of four years an ultimatum. Either put a ring on it or let her go, preferably not the latter.

When Rainey's piece of crap car dies in the middle of Nowhere, Montana, she's sure she's a gonner, until gorgeous restaurateur Beck Hartnett stops to help. Beck falls hard for Rainey, and knows she would admit she's fallen for him too, if she wasn't too stubborn to admit it. Beck has five days before the car is repaired to steal Rainey away from a boyfriend who doesn't deserve her. Five days before she's gone for good.
Read an excerpt:
I loved Beck's hair. I loved it long. I loved the way he looked when he pulled it back and the way he looked like some kind of hot cowboy when he wore it down. "Your hair is perfect the way it is."
"But I came here to get it cut."
"I don't want to."
About the Author: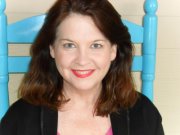 Kim Boykin is a women's fiction author with a sassy Southern streak. She is the author of The Wisdom of Hair, Steal Me, Cowboy, and Palmetto Moon (Summer 2014.) While her heart is always in South Carolina, she lives in Charlotte, North Carolina, with her husband, 3 dogs, and 126 rose bushes.
Website ~ Facebook ~ Twitter

Buy the book at Amazon.