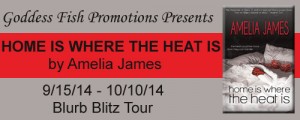 This post is part of a vitual book tour organized by
Long and Short Reviews
. Amelia be awarding a candy bar and book mark to a randomly drawn winner via rafflecopter during the tour, and a Grand Prize of a limited addition signed copy of Home is Where the Heat is to a randomly drawn winner via rafflecopter during the tour. (INTERNATIONAL WINNERS)
The Twisted Mosaic's reader favorite, Claire, has some twisted fun of her own.

Dependable paralegal Claire O'Connor knows the man of her dreams is out there waiting for her, and she's ready for him. Imagine her surprise—and delight—when she discovers not one but two men who lust for her. One adores her; the other challenges her. One makes sense; the other is a gamble.

Despite the family tragedy that shaped his past, JT Luck has only known professional success. His personal life, however, is a failure. He doesn't want a relationship, and while his 'let it ride' attitude keeps most women at a distance, Claire is eager to roll with him.

But when she finds out Kurt Langston, the office's resident computer geek, harbors a secret crush for her, she wonders if he's the safer bet. Kurt doesn't get close to people, and his feelings for Claire make no sense in his carefully ordered life. His unexpected bond with JT pushes him to take chances he never imagined.

Go all-in or go home? Either way, the heat could be more than they can handle.
Enjoy an excerpt:
"Shut up!" She spun and slapped his shoulder. "We need to go now."

JT laughed and slid in front of her as he opened the door. "You're still here?" he said.

The guy who'd interrupted them adjusted his pants and smiled at Claire. His deep brown eyes sparkled and the tip of his tongue slipped between his lips as he surveyed her body.

Cute. Why'd we throw him out?

JT clenched his fists and stepped forward.

The intruding stranger stood his ground. "Full pitcher of beer creating an urgent need."

JT rolled his eyes. "Jesus Christ."

The guy ducked past them and shut the door. Claire laughed when she heard him turn the lock.

"I'm glad you're laughing." JT moved closer to her, pressing his lips against her ear to be heard over the pounding music. "This could've gotten really ugly."

Claire stiffened. She glanced at the closed restroom door then brushed his hair back from his ear. "You think he could've turned us in?"

"Possibly. Or you could've freaked out."

"I'm okay." She closed her eyes and recalled the moment the stranger walked in. An intrigued grin had lit up his eyes and a swift bulge had filled out his pants. "He liked it."

JT laughed in her hair as he ground the ridge in his jeans between her thighs. "Think he would've liked to watch?"

"Oh yes," she sighed on his neck as his hard, warm body trapped her against the vibrating wall. Watched by a stranger.
About the Author:
I got hooked on trashy romance novels in junior high, but my mom took them away from me, But she couldn't stop me from daydreaming. After I got married, I wrote some of my naughtier daydreams down and sent them to Playgirl magazine. Two of them got published. I kept daydreaming and writing stories until my dirty stories turned into trashy books.
I live in Colorado, but I'll always be a loyal Wisconsin Cheesehead. When I'm not lusting after my next bad boy hero, I'm looking for inspiration in sci-fi and action movies, football players, morally ambiguous lawyers, muscle cars, and kick-butt chicks.
You can find me on Facebook, and on Twitter I'm known as Trashy Writer. I call myself a trashy writer because I want my readers to know that I enjoy mindless escapism as much as they do. I'm not out to win a Pulitzer Prize. (But I'm an award-winning finalist in erotica, USA Book News 2012.) I just want to help someone relax and get away from it all for a little while. I write romance, erotica and trash for fun and pleasure.
Trashy's Treasures Blog:
http://trashystreasures.com/
Books:
http://evolvedpub.com/ameliajamesbooks/
Twitter:
http://twitter.com/TrashyWriter
Facebook:
https://www.facebook.com/AmeliaJamesAuthor
Google +:
https://plus.google.com/u/0/106317629275663311597/posts
Good Reads:
http://www.goodreads.com/trashywriter
a Rafflecopter giveaway