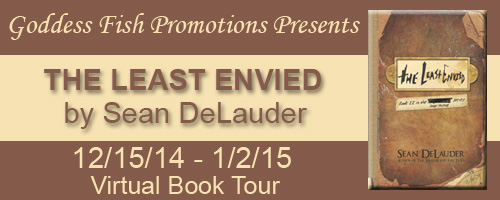 This post is part of a virtual book tour organized by
Goddess Fish Promotions
. Sean DeLauder will be awarding $25 Amazon or BN GC to a randomly drawn winner via rafflecopter during the tour.
Welcome to It's Raining Books, Sean. Why do you write in your genre? What draws you to it?
I'm not sure I have a genre, though I would probably fit best in science fiction or fantasy. I do enjoy myth building and I love to let my imagination run wild into the forest by itself and see what it brings back in its mouth. I love to imagine something utterly absurd and then figure out how to make it work.
One particular facet of science fiction I enjoy, and not necessarily my work, is that many times the fiction has driven real-world science. Maybe science fiction ideas are driven by practicality and the existence of what writers envision is inevitable—I like to believe that inventors need something to imagine, something to look to, and they see science fiction such as Star Trek and Heinlein as inspiration.
The human mind is a facile and clever thing. Give it a problem and it will find a way to solve it. Science fiction sometimes gives inventors the device and they create it.
What world-building is required?
Some amount of practicality is required, so it behooves you to do some research depending on the scenarios in which your characters find themselves. Even with a basic understanding of what lies beyond Earth's atmosphere, you know you can't just enter outer space with a t-shirt and a space snorkel. If you have a human character who, for whatever reason, needs to be in outer space, you need to know how their body will react. That tiny bit of understanding will, at the least, help you develop a satisfactory macguffin to get around the desultory effects of suitless space travel. And the wonderful thing about science fiction is, so long as your macguffin is well constructed, it is largely unassailable—just because it hasn't been created yet doesn't mean it won't be.
Name one thing you learned from your hero/heroine.
View challenges as opportunities. Every challenge is an opportunity to learn about your limitations or cultivate new abilities. There are lessons in failure, rewards in persistence, and when you face a challenge and knock it down, the next will not seem so daunting when it arises.
Do you have any odd or interesting writing quirks, habits or superstitions?
I've been writing for a long time, and I do most of my finished writing (transcribing notes, or just writing and editing) on a computer. I still write a great deal on paper, but there's always a strange sense of anxiety as I write something down on paper that intensified the more I used word processing software.
It took me a while to pin it down, but I eventually realized my anxiety stemmed from my inability to save the document written in pencil.
Computers aren't always reliable, so I've developed an unconscious habit of using the Save shortcut after every few lines of text, just in case. This shortcut undoubtedly triggers the release of some kind of neurotransmitter that offers relief that what I've written can be recovered in the event of a system crash.
When writing on paper there is no Save operation, so my brain becomes increasingly agitated as worry builds that the piece of paper will unexpectedly shut itself off or crash or develop a fatal error, erasing everything I've worked to create.
It's a very strange, very Pavlovian response that occurs even though I'm aware of it.
Are you a plotter or pantser?
My plotting is all over the place and dictated by whatever idea happens to pop into my head. The longer I write, the firmer the plot becomes, but often a character's personality may require an alteration to that plotline. The development of character and an objective is usually the hardest part about writing a book—once I have these two things, the book comes alive like a dog cut loose from its lead. Sometimes I can steer it in one direction or another, but for the most part I can only follow where it goes.
Look to your right – what's sitting there?
My wife. She's asking what I'm doing. I stick my tongue out at her and she immediately looks away. I sit here for a bit, waiting for her to look at me, but she knows better, and eventually my tongue dries out and my face gets tired, so I give up. I hate losing, but I really need to complete this interview.
Anything new coming up from you? What?
Always. Readers will probably note that the first book I wrote in this series is actually the second book chronologically. I promise I did not do this to screw with those who have obsessive compulsive disorder. Rather, this story is the story from which all other stories grow. However, it's also in the middle of the other stories, so I couldn't list it as the first in the series.
What you might consider additional bad news, I'm writing the 3rd story next, but that just means I'm saving the best for last.
Do you have a question for our readers?
How much of a role does a book cover play when selecting a book to read? Who do you trust more: friend recommendations or online reviews? What criteria for book selection would become predominant if books did not have covers?
Cast back in time to a perilous wasteland, Andrew is tasked with recording the fate of an individual history has chosen to ignore. Threatened by knee-high creatures called Wogs, an enigmatic beast known as the Forest Monster, and the man orchestrating the slow annihilation of the world, Andrew discovers all hope for salvation and survival rests with a boy without a history.
Enjoy an excerpt:
Gordimer's focus returned and he leaned forward.

"Still want to be a hero? Or afraid?" he asked, teeth gritting. His eyes glinted with wildness, but his voice was biting and controlled. "A little fear is good, yes. It prevents you from becoming arrogant, forgetting your limitations. But to face fear and overcome it." The old man punched a finger in the air. "Ah ha! Then the curtains of limitation begin to draw aside. Success is limited only by a lack of daring."

Gordimer grinned and his eyes opened wide.

"And if death scares you, boy, perhaps heroing is something you should reconsider."

If Gordimer was trying to frighten him, Billy-Bob thought, he'd been successful. At the same time, Gordimer seemed to be trying to encourage him. To face a fear and overcome it was to master that fear forever. And if he mastered one fear, how difficult would it be to master others? The first step in mastering fear must be to confront that fear.

"Where West do I go?"

For an instant Billy-Bob thought Gordimer's sneer wavered, giving way to a smile of admiration that lit and faded in an instant.

"Doesn't matter, really. Just go West. All the way to Beta. It's where most heroes end up."

"Beta?" asked Billy-Bob.

"It's a town," Gordimer explained.

"Where?"

"Over there," said Gordimer. He pointed down the street toward the blankness beyond.

"I've been over there," said Billy-Bob. "There's just rocks and a crack that's too wide to cross."

"Past that."

"Past that is nothing."

"Past the nothing, too."

"What is past nothing?"

Gordimer smiled.

"Beta."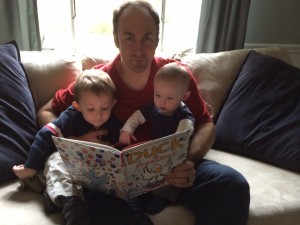 About the Author:
This author has held several positions in recent years, including Content Writer, Grant Writer, Obituary Clerk, and Staff Writer, and is under the false impression that these experiences have added to his character since they have not contributed much to his finances. He was awarded a BFA in Creative Writing and Journalism and a BA in Technical Communication by Bowling Green State University because they are giving and eager to make friends. He has a few scattered publications with The Circle magazine, Wild Violet, Toasted Cheese, and Lovable Losers Literary Revue, and resides in the drab, northeastern region of Ohio because it makes everything else seem fascinating, exotic, and beautiful.
https://www.facebook.com/seanquistador
https://twitter.com/SeanDeLauder
http://www.goodreads.com/author/show/5446542.Sean_DeLauder/blog
Buy the book on
Amazon
.
a Rafflecopter giveaway