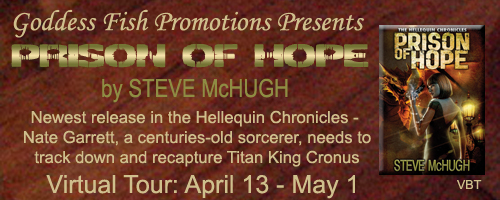 This post is part of a virtual book tour organized by
Goddess Fish Promotions
. Steve McHugh will be awarding a $25 Amazon/BN GC to a randomly drawn winner via rafflecopter during the tour. Click on the tour banner to see the other stops on the tour.
Why do you write in your genre? What draws you to it?
I write
The Hellequin Chronicles
, which is Urban Fantasy. I've always loved Fantasy in all of it's disguises, be it Urban, Epic or otherwise. I've also always loved mythology and magic, and knew I wanted to write something that was set in the modern day with those extra things.
What world-building is required?
The initial world building was a substantial undertaking. In the Hellequin Chronicles world, there are other realms, and each one is a mini world with it's own weathers, landscape, animals and plants. On top of that there are mythological beings to research as one of the biggest parts of the world is that the beings of mythology are real, so while they're not always portrayed as they might be in the stories everyone knows, I still need to know what parts to change to give them a twist on the norm. Hades, for example, is very different in the Hellequin world than he is in the ancient Greek myths.
Name one thing you learned from your hero/heroine.
Most of the things that Nate, the main character, knows are pretty scary. He's had a very dark life, and has done a lot of questionable things. But I do now know how to steal one type of BMW, and for future reference, calling up the fire brigade and asking them how to start a fire that looks like an accident results in a lot of very odd questions from a concerned fire investigator.
Do you have any odd or interesting writing quirks, habits or superstitions?
You know, I don't think I do. I should get one so I can say yes. Maybe I should wear a monocle while I write, or buy a parrot or something.
Are you a plotter or pantser?
A bit of both, really. I tend to plot out the main story, character arcs and know what big things need to happen, but everything else happens as it happens. If I did too much plotting, I'd only ignore it, and if I did none, my 130,000 word books would be double that.
Look to your right – what's sitting there?
A very large bookcase, it's full of graphic novels, a Lego Mars Rover and a Lord of the Rings Lego ship. I like Lego. Next to that is my office door, which really isn't that exciting one way or the other.
Anything new coming up from you? What?
My 4th,
Prison of Hope
, was out on April 14th, and then my 5th is out in Aug. So, it's going to be a very busy year. Both are in the
Hellequin Chronicles
series and were a lot of fun to write.
Do you have a question for our readers?
If you could sit and have dinner with any 3 people from history, who would it be and why? Mine would be Stephen Hawking, Leonardo da Vinci and Nikola Tesla. I wouldn't have a clue what they might be talking about half the time, but I would be there when after that lunch they went off and changed the world.
Long ago, Olympian gods imprisoned the demon Pandora in a human—Hope—creating a creature whose only purpose was chaos and death. Remorseful, the gods locked Pandora away in Tartarus, ruled by Hades.

Now, centuries later, Pandora escapes. Nate Garrett, a 1,600-year-old sorcerer, is sent to recapture her and discovers her plan to disrupt the 1936 Berlin Olympic Games, killing thousands in a misplaced quest for vengeance.

Fast forward to modern-day Berlin, where Nate has agreed to act as guardian on a school trip to Germany to visit Hades at the entrance to Tartarus. When Titan King Cronus becomes the second ever to escape Tartarus, Nate is forced to track him down and bring him back, to avert a civil war between those who would use his escape to gain power.
"See?" the manager told Mara. "He wishes you no harm."

"We'll see how that goes when he's murdering us in our sleep," she said.

"I promise to clean up after I'm done," I said.

The manager gave me a "Was that really necessary?" look while someone behind me made no effort to conceal his or her snigger. Apparently my time of helping was over.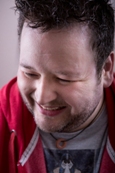 About the Author:
Steve McHugh is the author of the popular
Hellequin Chronicles
. The fourth book,
Prison of Hope
, is out on April 14th. He lives in Southampton on the south coast of England with his wife and three young daughters. When not writing or spending time with his kids, he enjoys watching movies, reading books and comics, and playing video games.
https://stevejmchugh.wordpress.com/
https://twitter.com/StevejMchugh
https://www.facebook.com/steveJMchugh
Buy
Prison of Hope
at
Amazon
.
a Rafflecopter giveaway