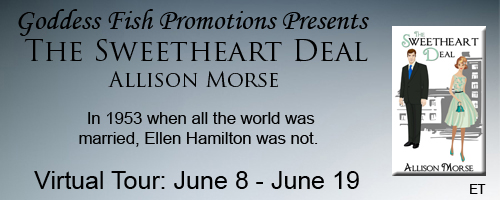 This post is part of a virtual book tour organized by
Goddess Fish Promotions
. Allison will be awarding $25 Amazon or B/N GC to a randomly drawn winner via rafflecopter during the tour. Click on the tour banner to see the other stops on the tour.
Some people in her small rural community think Ellen Hamilton, the business savvy daughter of the town's largest employer, is too big for her britches. After all it's the 1950s and women have no place in running corporations. But when the company is threatened with takeover by John Adair, the man who broke her heart and "betrayed" her family business years ago, she's determined to stop at nothing to win. Yet, when the cool Ellen turns molten in John's arms, will she discover the truth about the past in time to seal The Sweetheart Deal.
Enjoy an exclusive excerpt:
John awoke the next morning not wanting to leave the bed. Ironic to feel so lousy when he had what he had come for. He had a voting share of Hamilton Manufacturing at his disposal. With this, he'd be able to swoop in at an opportune time and snatch up an active share of the tank—not merely be the silent financial partner envisioned. John rubbed his eyes. Except…

Ellen.

He couldn't get the picture of her from the other night out of his head. Her chestnut hair indistinguishable from the gold and brown tapestry of leaves. Her skin radiant. And, in his arms she was all earth and need and primal.

She'd arched her back and her nipples, tight and erect, were held up like a divine offering. Her throaty moan inflamed him. He licked and nibbled and teased while his desire to savor or devour her warred inside. She was no longer the girl who had trembled in his arms with desire and trepidation, but a woman. She illuminated the possible with her brilliant mind and could bring him to his knees with her sensuality.

And then the spider.

Damn.

But, oh…God, her laugh!

Later, in Ellen's bedroom, with crisp white linens and the smell of jasmine, and pure salty sweet her, they made love once, twice. When she slept nestled under his arm something soft, winged-like, awoke inside him. A belief that a different life was possible, different from what the dark world of poverty, war, and betrayal had taught him.

How could their being together be so profound to him and yet mean nothing to her?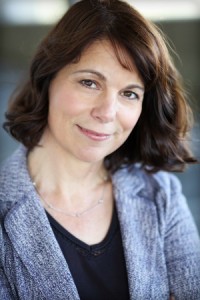 About the Author:
Allison Morse grew up in a family of actors in Los Angeles; before the age of five, she started acting classes, which she adored. She continued in the family business until her early twenties when her curious spirit led her to consider other interests.
After receiving a B.A. from U.C. Berkeley, she went on to earn a M.A. in Marriage and Family Therapy, and a J.D. from U.C. Hastings College of the Law.
Although she loved learning from each of her varied careers she always knew that storytelling was as essential to her as breathing. So as she pursued her professional life, she kept to a strict writing schedule, and joined the Romance Writers of America and Sisters in Crime.
She lives with her wonderful husband in a house in the hills that's filled with books.
Allison can be contacted at her
website
.
Buy the book at
Amazon
or
The Wild Rose Press
.
a Rafflecopter giveaway