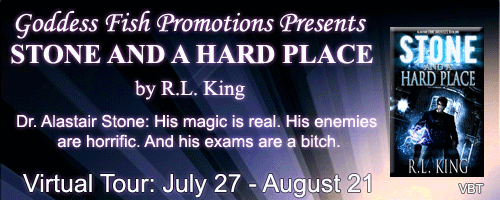 This post is part of a virtual book tour organized by
Goddess Fish Promotions
. The author will be awarding a $40 Amazon or B/N GC to a randomly drawn winner via rafflecopter during the tour. Click on the tour banner to see the other stops on the tour.
Why do you write in your genre? What draws you to it?
My genre is urban fantasy/paranormal thriller with a dash of horror. The main reason I write in it is because I love magic, but I'm not a big fan of medieval fantasy. I like the present day, and have always been fascinated by the paranormal, and all the weird things that happen in the world that can't be adequately explained. I want my mage to wear a long coat and Doc Martens, not a robe and a pointy hat! And I want to explore the things that live between the cracks in our modern-day world, that most people just look away from because they don't want to acknowledge that they exist. I've been a fan of horror authors Stephen King and Graham Masterton since I was a young child (yeah, I had cool parents who didn't censor what I read) and they've influenced my work a lot.
What research/worldbuilding is required?
I actually do have to do research since I write in the present day and my protagonist teaches at Stanford. I'm in the process of expanding my research about what it's like to be a college professor, what their day-to-day activities look like, and what it's like at Stanford (favorite spots, best places to eat or study, etc.). Fortunately I don't live far away from it, so I'm planning some research field trips soon. I've also got two good friends who went there, so they've been a big help as well. As for worldbuilding—for my series it's mostly getting the magic system and the magical society right. I don't have an overarching magical body in my world (like, for example, the White Council in the Dresden Files series)—my mages are rarer and less organized. Part of that was I wanted my protagonist to be more of a maverick, and part of it was that I didn't want to deal with trying to re-invent the wheel and come up with a new take on the magical society. That's not the story I wanted to tell.
Name one thing you learned from your hero/heroine.
Sometimes you just have to step up and do something even if you're scared. Dr. Stone (my protagonist) is a pretty brave guy, but he's not a lantern-jawed action hero. Sometimes he's very tempted to just say "the hell with it" and let somebody else handle the problem. However, unfortunately most of the time there isn't somebody else who can handle it.
Do you have any odd or interesting writing quirks, habits or superstitions?
I don't like to write on laptops unless I absolutely have to—I like having my big monitor, comfy chair, full-sized keyboard and mouse, and writing-friendly surroundings. I also don't like having people, other than my spouse, around when I'm writing. I envy people who can write in coffee shops, on airplanes, or in other public spaces. I have a really hard time doing it.
Oh, and I read all my books aloud (complete with accents) to help me get the flow of the narrative and the dialog right.
Are you a plotter or pantser?
Kind of halfway in between, leaning a little more toward plotter. When I start a novel I need to know where it's starting, generally where it's heading, and where I'm trying to end up. I'll usually plot out the first few chapters, but leave the rest of it for inspiration to strike. My characters have taken me in some pretty odd (and amazing, and wonderful) directions, so I need to let them have enough freedom to do that. I still show them who's boss if they get too out of hand, though!
Look to your right – what's sitting there?
Let's see…I've got a bunch of old badges from conventions I've attended hanging on the wall, a Blue Snowball microphone on a stand on the desk, and a little bendy figure of Jack Skellington from Nightmare Before Christmas wrapped around the frame of my loft.
Anything new coming up from you? What?
Plenty. I've got the next Stone Chronicles novel, called The Threshold, coming out sometime this fall, and then two more in the series finished and in various stages of editing. I've got one more as a finished first draft, another one just starting, and ideas for at least five more. And I'm hoping to get approval to write my second novel in the Shadowrun line (my first one, called Borrowed Time, was published earlier this year.)
Do you have a question for our readers?
What urban-fantasy tropes do you enjoy, and which ones do you think are overdone?
Thank you very much for inviting me to your blog!
Dr. Alastair Stone, Occult Studies professor, powerful mage, and snarky British expat now based in Palo Alto, California, does his best to keep his academic and social lives separate from his increasingly frequent brushes with various malevolent forces from the supernatural side of the street. A little horror, a little humor, but mostly straight-up urban fantasy.

Stone and a Hard Place

Dr. Alastair Stone, Occult Studies professor and powerful mage, has his hands full trying to keep the two sides of his life separate as he trains a new apprentice, deals with a malevolent entity trapped in the basement of a wealthy old woman's massive home, and battles dark mages intent on enslaving it for their own ends.

Debut novel of the Alastair Stone Chronicles.

The Forgotten

Dr. Alastair Stone is back, this time teaming up with Jason Thayer, a young man hunting for his missing sister. Embroiled in a web of odd homeless people, a growing conspiracy, and deadly danger, they soon realize that even if they find Jason's sister, they might not be able to help her.

What do you do when you discover an extradimensional plot that threatens the safety of the entire world, but you can't tell anyone about it because literally anyone on Earth could be part of it?

Book Two of the Alastair Stone Chronicles.
Enjoy an excerpt from STONE AND A HARD PLACE:
"Dr. Stone?"
The voice was trembling, female, and sounded terrified. It took him a moment to identify it. He stared as Megan stirred again, draping her arm back over him. "Mrs.—Bonham?"
Whoever was on the other end sounded like they were on the verge of hysteria. "Dr. Stone, is that you?"
"It's me, Mrs. Bonham. What's wrong? Is something wrong?" He sat up a little, propping himself up on his pillows. Megan's arm slid down over his stomach, but he didn't even notice that she was there.
"Something's here," she quavered. "Something's…happening."
He was fully awake now. Carefully, he moved Megan's arm and sat on the edge of the bed. "Calm down, Mrs. Bonham, please. I'll help you if I can, but you have to tell me what's happening."
"I don't know," she sobbed. "It's like the whole house hates me. Noises—cold winds—things slamming—"
"Is Iona there? Can you put her on for a moment?"
There was a shuffling sound and then a different voice spoke, sounding almost as frightened as Adelaide Bonham had. "Dr. Stone? This is Iona."
He took a deep breath. "Iona. What's going on? Is Mrs. Bonham—"
"She's not imagining things, Dr. Stone," the woman said. In addition to sounding frightened, she sounded like she couldn't believe what was going on. "I can hear them too. The noises. The feelings. It's horrible, Dr. Stone. Something's going on."
About the Author:
R. L. King is an award-winning author and game freelancer for Catalyst Game Labs, publisher of the popular roleplaying game Shadowrun. She has contributed fiction and game material to numerous sourcebooks, as well as one full-length adventure, "On the Run," included as part of the 2012 Origins-Award-winning "Runners' Toolkit."
Her first novel in the Shadowrun universe,
Borrowed Time
, was published in May 2015.
When not doing her best to make life difficult for her characters, King is a software technical writer for a large Silicon Valley database company. In her spare time (hah!) she enjoys hanging out with her very understanding spouse and her small herd of cats, watching way too much Doctor Who, and attending conventions when she can. She is an active member of the Horror Writers' Association and the Science Fiction and Fantasy Writers of America, and a member of the International Association of Media Tie-in Writers.
http://www.rlkingwriting.com
http://www.magespacepress.com
http://www.facebook.com/AlastairStoneChronicles
http://www.twitter.com/Dragonwriter11
http://www.amazon.com/R.-L.-King/e/B0084QBKYC/
Buy Links:
Stone and a Hard Place
(book 1):
http://www.amzn.to/1CFdTDi
The Forgotten
(Book 2):
http://www.amazon.com/Forgotten-Alastair-Stone-Chronicles-Book-ebook/dp/B0084O96RW
.
a Rafflecopter giveaway