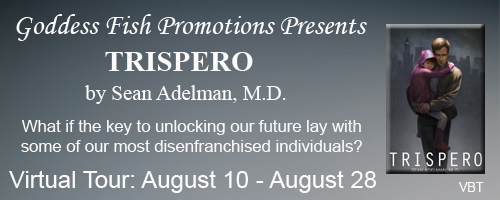 This post is part of a virtual book tour organized by
Goddess Fish Promotions
. Sean Adelman will be awarding a paperback copy of Trispero to a randomly drawn winner via rafflecopter during the tour. Click on the tour banner to see the other stops on the tour.
Why do you write in your genre? What draws you to it?
I love writing fictions because I get to create things that I want to see. When a situation in real life doesn't go the way I think it should, I can write a story that makes it right. It also gives me a chance to use a part of my brain that I don't get to use as an orthopedic surgeon. I am drawn to it partly because my writing is also a message. My stories are supposed to send a message about inclusion and acceptance of people with different abilities. Every time I get a message from someone who appreciates what I do I get pulled in even further to my writing career.
What research is required?
My latest novel Trispero required a tremendous amount of research into the genetics of Down syndrome and cancer treatments. Fortunately for me part of that was helped by the fact that I have been a doctor since 1993 and an orthopedic surgeon since 1998. In addition, I have 18 years of experience raising a beautiful daughter with Down syndrome. My research came in large parts from the Global Down Syndrome Foundation, the Fred Hutchinson cancer research center, and the LuMind Foundation.
Name one thing you learned from your hero/heroine.
Writing Trispero allowed me to gain an even greater appreciation of what is important in life. There was a lot of Jason in me so I unwittingly had to work out some of my own feelings in writing his character. It was also hard, in that, Jason was not me, so he had to do things that maybe I wouldn't.
Do you have any odd or interesting writing quirks, habits or superstitions?
Growing up my dad and I used to work on old cars together. I loved my time with my dad so I have a strong sentimentally towards old cars. As a result, I like to include a cool car in my stories that has nothing to do with the plot just for fun. You'll have to tell me what the car is in Trispero after you read it.
Are you a plotter or pantser?
I am definitely a plotter. I don't always have time to sit and plot everything out, but I have to have an idea of an outline of the plot in my head. No matter how hard you try there is an element of writing that is always a little free flowing. I do try to stay organized, even if it's only in my own mind.
Look to your right – what's sitting there?
To my right is downtown Seattle over Lake Union. Sitting on my couch with the shades up enjoying a beautiful sunset while I write.
Anything new coming up from you? What?
My next adventure will be a sequel to Trispero. I would also like to do a graphic novel for people with intellectual disabilities, but that is still in the idea phase.
Do you have a question for our readers?
While you are reading Trispero, I want you to really think about what's important to you. Sometimes the most important things in life may not even be something you think about. A great story sticks with you long after reading it.
Our intellect directs us. Our humanity defines us.

What if the key to unlocking our genetic code and our future lay within some of our most disenfranchised individuals? Would we still shun them?

Seattle in the year 2330: centuries of conflict have led to this precipice. If the world is to move forward, Olivay has the difficult task of teaching Alucia her history. Olivay knows that without understanding where she came from Alucia will never be able to help humanity explore the universe.

In present day Seattle, Jason Roy is a scientist whose life revolves around his daughter, Lily. Within her genome lies a secret that Jason has dedicated himself to uncovering. The mundane life of a scientist and his family takes a turn when a multinational corporation decides Jason Roy's research is a danger to them.

Jason and Lily are now running away from an unforeseen enemy and toward a discovery that will change mankind. Altering the world may come too late for Jason to save what matters most in his own world.

The great irony of unlocking our genetic potential was finding that our greatness was found in our love for one another. -Trispero almanac
Enjoy an excerpt:
"Ms. Sydney, you have five minutes left."

I don't have time. Debbie made a split decision. She moved the files directly into her drive before her program finished. "Thirty seconds, twenty seconds, five seconds. Download complete."

"Ms. Sydney, what are you doing?"

The alarm had notified him. Debbie carefully watched as the security guard moved toward her. He was the only other person here. The young guard at the window was not in her direct line of sight. Debbie quickly removed her drive. The guard moved in closer.

"Ms. Sydney, I will need you to give me that drive and come with me!"

Debbie bowed her head as she turned with her hand held out gesturing toward the guard as if she was going to give him the drive. The guard reached to take it when Debbie seized his hand pulling him forward and allowing his momentum to increase the force as her opposite elbow collided with his temple. The guard was dazed but not out, so before he could alert anyone, she put him in a sleeper hold until he was out completely. Debbie quickly slid him under the table and moved toward the door. The guard in the window must not have heard anything as indicated by his curt nod. She returned his gesture and took great care not to run as she went toward the stairs. Patience. Don't attract attention.

Debbie left the stairwell carefully walking past the administration building security. The lines from the morning were gone so the guards acknowledged her. She turned and smiled while pushing on the door just as the alarm went off. Debbie ran with all her might away from the security gate at the road entrance. Running behind the building as the alarm got louder and louder, Debbie pulled out her phone.

"Agent Davis, come get me."
About the Author:
Sean Adelman is a practicing orthopedic surgeon in Seattle. When he isn't working hard to put people back together he enjoys writing, running, and attempting to play his electric guitar without frightening his two dogs, Chestnut and Orion. Sean has three children Brenna, Devon, and Ian with his wife of 25 years Susan.
Advocating for people with developmental disabilities is his life's passion and his inspiration for the middle grade book series, Sam's Top Secret Journal, and now his first adult novel, Trispero.
Join Sean on
Facebook
for book giveaways, events, and news on Sam's Secret Journal and Trispero or visit his
website
at.
a Rafflecopter giveaway