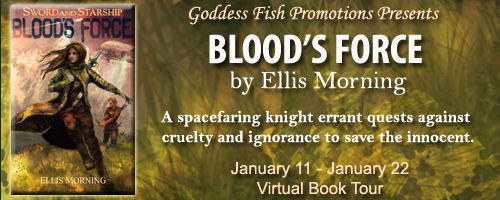 This post is part of a virtual book tour organized by
Goddess Fish Promotions
. Ellis Morning will be awarding a $20 Amazon/BN GC to a randomly drawn winner via rafflecopter during the tour. Click on the tour banner to see the other stops on the tour.
Five Things You Might Not Know About Ellis Morning
Hello there, it's so nice to be here today! So, five deep dark secrets? I'm happy to oblige!
1) I've trained in several martial arts styles: Kenpo, Jun Fan, Muay Thai, Eskrima, and German longsword. My training informs a great deal of what I write combat-wise within Blood's Force. Dame Jessamine, especially, fights the way I fought: reluctantly, favoring speed and leverage over raw strength.
2) I learned knitting and sewing from my mom and grandmother. I never rose to the level of making my own clothes, but I can handle repairs and alterations. I've also knitted a Tom Baker-era Doctor Who scarf for my husband!
3) I'm a giant Star Trek nerd. I love The Original Series best, TNG second. My husband and I even met online in a Star Trek roleplaying forum, when my character reprimanded his for insubordination; it was complete infatuation from there. For me, the best thing about the early Star Trek series were their optimistic outlooks toward the future. Humanity is rapidly developing all this daunting new technology ... and it'll be great! We're gonna get past all our warlike urges and prejudices, solve all our scarcity and environmental issues, become respected galactic citizens, then boldly go where no one has gone before.
4) I know how to pick locks. But I only practice my powers in a hobby environment, promise!
5) I'm a dabbler in both languages and music. My German's pretty competent, and I also know some Farsi, Spanish, and Japanese. I've played piano since I was six, and have picked up guitar, viola, oboe, and recorder at various points.
Have any fun facts of your own? I'd love to hear from you in the comments!
Where superstition is law, there is no order!

Dame Jessamine is a knight errant with a spaceship for a steed, a pupil of ancient science and technology who quests on behalf of the downtrodden. She's accustomed to forging her own path through the galaxy—until she's hijacked at sword-point and sent to investigate Nidaros, a remote barony known for bursts of rebellion.

In Nidaros, Jessamine finds a populace short on food and patience, innocents detained for torture, and a court trapped in a web of delusion. The Baron considers her a distraction. The magicians, convinced of a "curse," dismiss her pleas for rational action. Even as Jessamine forges an alliance with the soldiers, an unknown foe seeks to frame her as an agitator.

Stuck amid murderous intrigue and cut off from her mentors, Jessamine must figure out how to save Nidaros from starvation. But the only people who understand the true "curse" have been accused of witchcraft—and if Jessamine's not careful with her ancient knowledge, she'll join them in the dungeon!

Blood's Force is Book 1 of the Sword and Starship series of science fiction/fantasy adventure.
Enjoy an excerpt:
The uneven fence lacked the care and planning of a permanent fixture. It also lacked a gate. At the point where cobblestone met fence, a proclamation had been nailed up on the boards, stalwart against the wind threatening to carry it elsewhere. Flanking the parchment were two iron amulets of circular serpents gagging on their own tails, warning enough for those who couldn't read. Weathering had warped the parchment and smeared the issuing party's seal, but the message remained legible:
TURN BACK
By the Will of the UNSEEN,
by Decree of OUR LORD AND SOVEREIGN Albion Hadwin Catherwood VII (LMHR)
and by the Might of his Magic Adepts is the Settlement once known as Gules hereby
CURSED
for Failure to protect Assets sacred to OUR LORD and his Dominion.
Gules is cast from the Domain of Catherwood, furnished back unto Nature,
Her Denizens confined herein without Wish or Aid.
An any should trespass, shall the Trespasser share the Curse.
An any should render Succor to the Wretched within, shall the Renderer share the Curse.
Such is the Will of the UNSEEN, the Powers holding Dominion over all Dominions
.
"Hell," I muttered, for once regretting my gift of literacy. I felt like I'd just read the account of a madman who'd cut off his own hand to teach the rest of his body a lesson. My ribcage tightened, but not with the primitive fear of evil forces. Drea and my other mentors had freed me from belief in curses, Unseen, and other powerless superstitions. My heart ached for the people trapped beyond the fence, who almost certainly hadn't done anything to deserve being so cruelly severed from the rest of the galaxy.
Damned magic adepts. They were the same everywhere I went. There seemed no limit to the evil they could justify as "the Will of the Unseen."
About the Author:
Ellis has always loved staging adventures in her head before going to sleep each night. When she was twelve, she started putting these adventures on paper.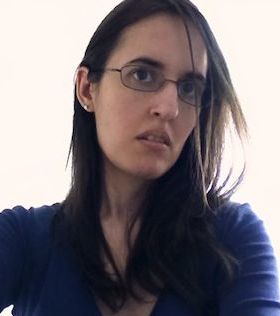 For the next twenty years, she wrote with varying degrees of seriousness, but always as a hobby. In that time, she fell in love with Mark Twain and Kurt Vonnegut, the original Star Trek series, and Mystery Science Theater 3000. Science fiction became her favorite domain to work in, but she also enjoyed reading fantasy, horror, Western, and detective stories, and incorporating their elements into her work. One of her favorite things to do was make people laugh.
Ellis denied being a writer for decades. But then she sold articles to The Daily WTF, and a short story to Analog Science Fiction and Fact. After quitting her full-time job to finish her first novel, it was time to own up to writing as her calling. She's currently an editor at The Daily WTF, and having the time of her life penning novels and short stories.
Google+:
Google+
Twitter:
https://www.twitter.com/EllisMorning
Goodreads:
https://www.goodreads.com/author/show/7871892.Ellis_Morning
Buy the book at
Amazon
,
Barnes and Noble
,
Kobo
, or
iBooks
.
a Rafflecopter giveaway