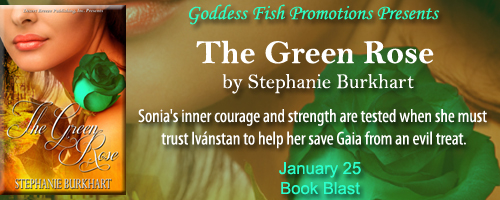 This post is part of a virtual book tour organized by
Goddess Fish Promotions
. Stephanie will be awarding a $10 Amazon or B/N GC to a randomly drawn winner via rafflecopter during the tour. Click on the tour banner to see the other stops on the tour.
On the continent of Gaia, evil is brewing. Turncoat wizard, Balthyser, kidnaps the kings of Dahaka and Tapin. He wants the green rose, a source of powerful magic.

Princess Sonia of Tapin is forced to hunt down the rose in exchange for her father's life. It's the ultimate betrayal of Gaia's peace, but she has no choice if she wants to save her father.

Prince Ivánstan of Dahaka accompanies her on the journey. Both face challenges and obstacles that test their strength of character during the hunt for the rose. Dare Sonia put her trust and faith in a man she hardly knows to secure Gaia's peace or will the continent's harmony be shattered forever?
Enjoy an excerpt:
Sonia stepped into the alley. The stark shadows sent a chill down her spine.

"Hiro?"

"Don't--"

A strong arm wrapped around her neck, tugging her back against a thickly muscled chest.

She dropped her supplies. Her hand went for Broadwing, but powerful fingers grasped her wrist. There was no mistaking his citrus scent.

"Gabriel."

"Aye."

Hiro descended, talons extended.

Gabriel pinned Sonia's arm next to his body, shifting his arm and weight. Sonia struggled, but stopped when she felt the steel of a dagger against her throat. Her body felt immobilized by the upward twist in her trapped arm, forcing her free arm to hang limply at her side.

"No further, bird, or I'll slice her throat."

Hiro slowed his descent and circled overhead, never letting his gaze leave Sonia. Thank Nyla Hiro was here. Never had Gabriel caught her so unaware. How had he found her?

"What can I do?"

"Bring Ivánstan."

Hiro flew away.

"What did you tell that foul bird?" Gabriel hissed next to her ear.

"I urged him to leave."

"You were never a good liar."

"Unhand me."

His loud chuckle filled the air. "Nay, not yet, you have something I want."

Sonia struggled, turning her face toward the shadows to avoid his stench, but Gabriel held her firmly. A fresh bout of pain lashed up her arm. "Release her!"

Sonia directed her gaze toward Ivánstan's voice. Hiro was perched on his shoulder, his eyes blazing with anger. Sonia gasped. Hiro had never perched on another's shoulder before.

"Well, if the bird didn't fetch good Prince Ivánstan."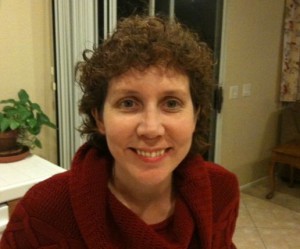 About the Author:
Stephanie Burkhart is a 911 dispatcher for LAPD. She was born and raised in Manchester, New Hampshire. She served 11 years in the US Army and currently calls Castaic, California her home. Stephanie was married in Denmark in 1991 and has two young sons. She adores chocolate and is addicted to coffee. She writes paranormal, contemporary, and steampunk romance and has two children's books published with 4RV Publishing.
Website:
http://www.stephanieburkhart.com/
Twitter:
http://twitter.com/StephBurkhart
Facebook:
https://www.facebook.com/StephanieBurkhartAuthor
Goodreads:
http://www.goodreads.com/author/show/4031660.Stephanie_Burkhart
YouTube:
http://www.youtube.com/user/botrina?feature=mhee
Pinterest:
http://pinterest.com/sgburkhart/
Buy the book at
Desert Breeze Publishing
,
Amazon
,
Barnes and Noble
, or
All Romance eBooks
.
a Rafflecopter giveaway