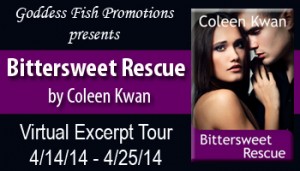 This post is part of a virtual book tour organized by
Goddess Fish Promotions
. Coleen will be awarding a $10 Amazon giftcard to a randomly drawn commenter during the tour. Click on the tour banner to see the other stops on the tour.
She rescued him, and saved herself.

When Ellie Sherwood rescues her boss from drowning, she never anticipates the consequences. For three years she's existed in an emotional limbo after a catastrophic family tragedy, but now she's awake and ready to seize life with both hands. And that includes the sexy boss she's been secretly infatuated with for some time.

Drake Crawford is about to achieve his lifelong goal when a car accident plays havoc with his life. Not only is his plan for revenge delayed, but his once demure personal assistant is now shockingly, irresistibly forward. Drake is against office affairs, and Ellie is vital to his success, but he can't get her out of his mind, and besides, he does owe her...

His solution—a two-week break with Ellie at his wilderness hideout. They'll indulge in a scorching, private affair, and when it's over they'll return to their normal lives. But as Drake discovers more about Ellie, he realises her quiet exterior hides a backbone of steel. When she asks him to walk away from his ultimate goal, he knows it's time to let her go.
Read an excerpt:
Ellie's face was a tight mask. Her skin was blanched, her eyes shadowed, and her jaw clenched. She looked just like that the night they'd crashed into the harbour. Holy shit. It hit him with renewed vengeance what she'd achieved that night. She'd been petrified, immobilised with horror, and yet somehow she'd managed to save them both. She'd singlehandedly pulled him from the sinking car and hauled him out of the water. How had she done that when she was just a slip of a girl and scared out of her wits?

A lump wedged in his throat as he stared at her with renewed awe and respect. Ellie was unique, special in every way.

"How did you do it, Ellie?" he asked softly. "How did you save my sorry arse?"

She blinked, shook her head, and squeezed her eyes shut as if trying and failing to block out the memories.

"It's okay if you don't want to talk about it," he quickly added. "I know it can be difficult to—"

"Everyone thinks I'm a hero because I rescued you." Her eyes flew open, and their tormented depths made him start. "But the truth is, you rescued me." She stopped short.

The waves crashed endlessly. "I don't understand," he said when the silence got too much for him.

"You see, if you hadn't been there—" Using the cuffs of her oversized jacket, she scrubbed at her eyes, then stared blindly out to sea. "If you hadn't been with me in the car, I would have...I would have let myself drown."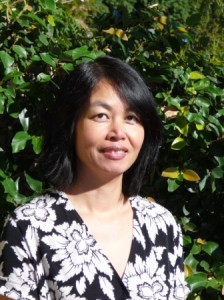 About the Author:
Coleen Kwan has been a bookworm all her life. At school English was her favorite subject, but for some reason she decided on a career in IT. After many years of programming, she wondered what else there was in life — and discovered writing. She loves writing contemporary romance and steampunk romance.
Coleen lives in Sydney, Australia with her partner and two children. When she isn't writing she enjoys avoiding housework, eating chocolate, and watching Criminal Minds.
Website ~ ~ Facebook ~ Goodreads
Buy the book at
Amazon
,
Barnes and Noble
,
Smashwords
, or
Amazon UK
.
a Rafflecopter giveaway