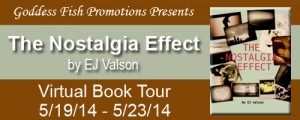 This post is part of a virtual book tour organized by
Goddess Fish Promotions
. The author will be awarding a $25 Amazon Gift Card to a randomly drawn commenter during the tour. Click on the tour banner to see the other stops on the tour.
Five Things We Might Not Know About E.J. Valson
This might be tough, but I will give it a try:
1) I am not afraid of death. I have seen someone die (peacefully of course) and that experience eased my fear of death. I am however terrified to leave my loved ones way too young and of how I will die.
2) I LOVE to laugh. It is one of my favorite things in the whole world. I went almost a year without really laughing or smiling due unhappiness in my previous career. Now that I have been out of that environment for almost a year and released my book in meantime, I find that I smile and laugh a WHOLE lot more and that my cheeks don't hurt and my face no longer feels tight when I do!
3) I am half Hispanic. I really don't touch on that in my book, but has made me who I am. I have a large family on my father's side, lots of uncles, aunts and cousins and family gatherings were one of my favorite things. This is why family is so important to me.
4) To touch on item 3. I DON'T speak Spanish – not a lick. People find this odd, but it is due to the fact that my elders only spoke Spanish when they didn't want the kids to know what they were talking about. Oddly enough, I know a heck of a lot more Swedish than Spanish!
5) I am a klutz and I embrace it. However, I was always able to dance and keep rhythm, but sports was NOT my thing. When I was 13 I actually went rolling down a hill while jogging to the track field in front of my entire co-ed gym class. I have learned to live with my innate ability to spill, drop things, break things, or trip on my own feet in front of people and laugh about it. If you look at my Twitter page, you will find a framed picture of a painting of a piece of toast. Long story short, I broke it, I bought it.
Jennifer Nielsen awakens one morning to a life that doesn't belong to her. Thrown back eight years into a past she doesn't remember and again married to her ex-husband, she struggles to make sense of the situation. Longing to return to her current life with who she believes is her real husband and children, she seeks out answers -- and a way "back" -- wherever she can find them. Is she losing her mind? Did her other life ever exist? Or did she actually time travel? And if so, how will she get back and what will be sacrificed?
Enjoy this excerpt:
"I'll get her," I mumble sleepily, as I am abruptly awakened by the faint sound of a toddler's cry. The dark gray of dawn is coaxing my eyes to open, but they stay stubbornly shut. Her cry fades into the quiet morning and I assume that she was just dreaming and has fallen back to sleep. I am so tired, but I have so much to do today. I wrestle with the bed sheets, my eyes still closed, attempting to get a few more minutes of sleep.

Surrendering to the morning and with eyelids still shut, I slowly sit up and kick away the blankets to prepare for my feet to meet the cool hardwood floor. To my surprise, I instead feel something soft under my feet when they hit the floor. I quickly pull them back up because I think I am stepping on the cat. I open my puffy eyes the tiniest bit while trying to focus….no cat, no hardwood floor, but carpet.

My eyes fly open and dart around the unfamiliar room. Where the hell am I? My wide-open gaze drifts to the other side of the bed. And who the hell is that?
About the Author:
With a passion for writing and a love of books and movies, E.J. Valson channeled her personal experiences and emotions into her first book, The Nostalgia Effect. The tale of a mid-thirties woman, who finds herself thrown back into her past still married to her ex-husband and yearning to get back to the life and love she knew before.
E.J. Valson currently resides in the Pacific Northwest with her husband and children. In her spare time, she enjoys writing, traveling, watching movies, but mostly spending time with her loved ones.
Blog ~ Facebook ~ Twitter ~ Goodreads