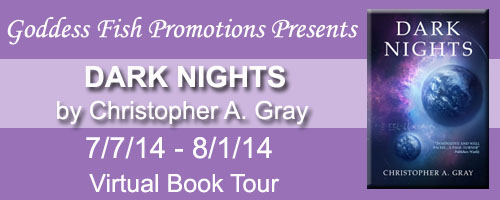 This post is part of a virtual book tour organized by
Goddess Fish Promotions
. The author and Goddess Fish Promotions is giving away a $50 Amazon or Barnes and Noble gift card (winner's choice) via a Rafflecopter giveaway. Click on the tour banner to see the other stops on the tour.
The machine believed it knew best how to save humanity... even if doing so meant destroying half the population.

Astrophysicist Doug Lockwood's unusual discovery during his observation of the sun kicks off a chain of events that nobody could have foreseen. The powerful political and military influences that compete to deal with his discovery set Lockwood on a course which will carry him across worlds, and into the grasp of a formidable new intelligence bent on accomplishing its goal at any cost. With Earth itself at stake and time running out, Lockwood and his team must find a way to counter this unprecedented threat before the powerful new enemy completes its plan. Two civilizations are pitted against each other in a desperate struggle for survival.
Enjoy an excerpt:
Bishop was wondering how long he could hold his position when he heard a noise behind him. He turned to see a floor plate rising. Two mechanical hands pushed up the plate from below, then tossed it aside. The RAKER used its powerful arms to quickly lever its bulk up from the floor beneath and climb out. Bishop stared at the RAKER, momentarily astonished at what he was seeing. He briefly considered shooting, but immediately realized his weapon would be next to useless against the armored android. The RAKER looked at Bishop and then deftly grabbed the pistol from his hand. Bishop, for all his training and experience, was startled. He had never seen anything that big move that fast. He just dropped his hands to his sides and took one step back. The RAKER ignored him and strode out into the corridor.
As soon as they saw the RAKER the tactical squad opened fire. The bullets were deflected off the androids advanced armor. It raised the handgun and fired expertly. Both soldiers fell to the floor, dead. The android picked up one of the assault rifles and tossed the Glock back along the floor to Bishop.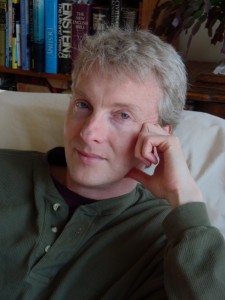 About the Author:
Christopher A. Gray is a professional freelance writer living in Toronto. He has been a sales agent, project manager, actor, filmmaker, comedy writer & performer and world traveler.
Buy the book at
Amazon
or
Barnes and Noble
.
a Rafflecopter giveaway