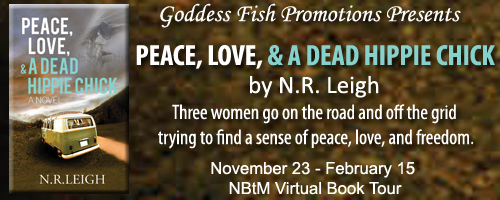 This post is part of a virtual book tour organized by
Goddess Fish Promotions
. N.R. Leigh will be awarding $20 Amazon/BN GC to a randomly drawn winner via rafflecopter during the tour. Click on the tour banner to see the other stops on the tour.
Why do you write in your genre? What draws you to it?
I write mainly for women, about women and their journeys of personal growth. I ultimately believe that it is and will be women who create positive change in our world. Not that it is our responsibility, rather reality. So, I see potential in other women's stories to inspire others and myself. It's that break from our own lives, that vicarious adventure we take with the characters that inspires me to read and to write. It's good for our souls, our minds. So, if I don't stay within one genre, I lead with female characters that are always evolving.
What or world-building is required?
Peace, Love, and a Dead Hippie Chick is not necessarily a fantasy / Sci-fi, but I had to create a world of people living off the grid. I researched many topics on survival tactics, wilderness and nature, subcultures, and travelers to write this novel. In my upcoming Sci-fi series, Imagine Yasmin, I have been researching world cultures, religions, and spiritual practices for several years now. It's an epic story of a young woman who inherits school for youth savants and an ancient power she must use to battle an evil warlord with the same power, to save the school and our world from destruction. I know it sounds like a familiar plot, but of course; there are aspects I can't yet divulge!
Name one thing you learned from your hero/heroine.
I've learned from The Hippie Chicks to take chances! They take a big chance by leaving their homes in search of a better life—a live they want to live. I make most of my decisions using my intuition. When something feels right, I act! If it feels wrong, I walk away. It so simple, it's often forgotten. Life becomes less complicated when you follow your instincts.
Do you have any odd or interesting writing quirks, habits or superstitions?
Honestly, I can only write without distractions. I have to drink coffee or tea the entire time. Wind chimes and candles help keep me relaxed. I don't write when I'm tired, stressed, or otherwise feeling poorly. I don't want it to taint my writing. So, I guess I try to keep the process very pure.
Are you a plotter or pantser?
I actually had to look up what the work "pantser" meant, so I guess that automatically qualifies me as a plotter! But really, I do plot. A lot. I mentally plot for years before I write. I take notes I call "Key Concepts," abbreviated "KCs." I keep them in composition books. Then, when I plot, I organize the KCs under each plot scene. Then, I make note cards for the scenes, and time lines using the three-act structure.
Look to your right – what's sitting there?
No one is sitting to my right, but my sweet little dog, Sydney, is curled up in a little ball on the couch, to my left! She loves when I'm writing or on the computer because that means I'm home with her!
Anything new coming up from you? What?
I have several titles I am developing. Imagine Yasmin has been begging me to write it for several years, so I think I will start the full process Summer 2016. However, Peace, Love, and a Dead Hippie Chick was such a complex project, I'm considering something a little lighter, like a humorous, Chick-lit, Sci-Fi I'm working on!
Do you have a question for our readers?
I'd love to know how they discover their favorite books. Do they stick to the charts, blogs, and social media for suggestions or do they go searching through the slush piles for something "undiscovered?"
Thank you for having me! I welcome correspondence from readers! Please visit my website
www.NRLeigh.com
to connect.
Peace, Love, and a Dead Hippie Chick follows the intertwining journeys of three young women in the mid-1990s who go on the road and off the grid, and leave their worlds behind. Each woman falls into a dangerous subculture of sex, drugs, and rock and roll in an attempt to attain her own sense of peace, love, and freedom.

KARA, a middle-class Midwestern girl, flees her painful past after a tragic accident claims a loved one, only to learn—after a violent attack—that there's no safety among friends or strangers. Survival rests in her hands alone as she escapes into the wilderness of New Mexico.

NATASHA, born into privilege, rebels against her family's expectations as she follows the Grateful Dead concert tour circuit, selling contraband and exploring her sexual freedom.

AMY, an impoverished Southern belle, becomes love-struck when an exotic drifter passes through town, deciding to leave home and follow him.

This intricately interwoven coming-of-age tale delves into the connection between strangers and the premise that the grand orchestration of life goes well beyond chance.
Enjoy an excerpt:
>Grae
Friday, April 13, 2012
Eighteen Years Later
I've heard it said that Volkswagen buses choose their owners and not the other way around. Some believe they're engineered and built with a secret mojo that allows this to be true. Ask anyone who's ever owned one, and they'll tell you it's so. I wonder whom this one chose. During my entire life, it's been sitting like a convict on death row, imprisoned in the rear corner of our jungle property next to our dog Parker's grave—over eighteen years now, grass growing over its wheel wells and tropical foliage climbing onto the windshield, awaiting execution by vegetation. I hadn't paid much attention to it until this morning. My parents had never spoken of it.


*****


Daylight broke through the fronds of the areca palms as I stepped onto the sod—the lawn was wet with morning dew—and began to dribble my soccer ball along the length of it. I drilled the ball, sending it sailing across the yard and directly onto the van's back door, popping it open. Cursing my crooked instep kick, I pushed through the tangled waist--‐‑deep flora in an attempt to close the hatch but climbed inside out of curiosity. The license plate reads New Mexico, Land of Enchantment. Although born in Arizona, I've never technically set foot in the United States. We moved here when I was an infant.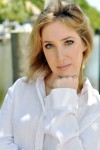 About the Author:
N.R. Leigh began her writing career in 2007 as a featured columnist for the guerrilla newspaper The Uncommon Sense. She since has written books as an expert on personal health and wellness under the pseudonym Nicci Leigh.
She was inspired to write her debut novel, Peace, Love, and a Dead Hippie Chick, by a conversation with a friend, who described a newspaper article regarding the events that surrounded a group of hippies' visit to her small town and the havoc they caused. This crazy, fascinating account, coupled with N.R.'s experiences traveling the United States in her early 20s, gave birth to her story.
N.R. has a background in education and teaches aesthetics, yoga, Reiki, and related holistic modalities. Born and raised in Flint, Michigan, she currently lives in a rural coastal community in southwest Florida with her family and their Australian Kelpie, Sydney, who believes she's a Tasmainian Devil.
N.R is inspired by funny people and those who create positive change and peace. Her friends and family describe her as driven, strong, silly, and independent. Something most people don't know about her is that, at age eighteen, she aided police in the capture of a team of bank robbers.
N.R. is working on her first fiction series, Imagine Yasmin.
Please visit her
website
to connect.
Facebook:
https://www.facebook.com/NicciRLeigh
Twitter:
https://twitter.com/IamNRLeigh
Pinterest:
https://www.pinterest.com/IamNRLeigh/
YouTube:
https://www.youtube.com/channel/UCYZOO78dsDbjt62hr70Kp1Q?view_as=public
Goodreads:
https://www.goodreads.com/author/show/6425003.Nicci_Leigh
Buy the book at
Amazon
.
a Rafflecopter giveaway