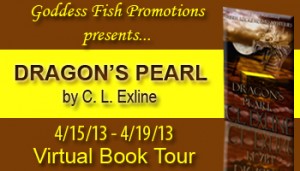 This post is part of a virtual book tour organized by Goddess Fish Promotions. C.L. will be awarding an eBook of the first book in the series,
Amber's Mysterious Death
, plus a $10 GC for Wild Child Publishing to a randomly drawn commenter during the tour. Click on the tour banner to see the other stops on the tour.
Pearls fell like raindrops from the sky while the dragons fought. Silvery fingers of mist cast eerie shadows upon the ocean waves as the struggle raged overhead. Three beings watched the battle, until they noticed blood on the full moon. Someone would die. They clasped hands and chanted. Blood on the moon signifies death for some unlucky victim, and someone is gunning for Sheryl. Now, Sheryl and her cohorts must solve the mystery of the haunted music box and a ghost before the killer gets his prey.
Enjoy an excerpt:
When Sheryl's best friend insists there is a ghost haunting Bridgeside, her soon to be open Bed & Breakfast, Sheryl decides to spend the night to prove Amber wrong.
In no time, Sheryl was snuggled under the covers. The bed felt wonderful, the house was quiet, and soon she dreamed of dragons. The tinny sound of music woke her. Sheryl sat up and rubbed her eyes. The music box was open and it was playing. She closed the lid, went to the doorway, and stepped into the hall. Humming reached her from downstairs. Sheryl hurried to the stairs and saw a woman wearing a flowing gray ruffly dress walking across the foyer, past the staircase, and toward the blue room.
"Brian! Brian! Wake up!" Keeping her hand firm on the banister and her eyes glued on the woman, Sheryl hurried down the steps. "Brian!" With both hands on the sides of the doorway, she leaned in and called out, "Brian!"
He bolted up. His arms and legs were entangled in the blankets. He struggled to get free and fell to the floor.
"Get up, Brian. She's in here." Sheryl glanced around but saw no one and flipped on the top light for a better look.
Amber's screams cut through Sheryl like a knife. She whirled around and raced up the steps. An unconscious Amber lay on the floor. "Brian! Hurry!" Sheryl knelt down and patted Amber's face. "Wake up, Amber."
The sound of screechy music caught Sheryl's attention. The music box. Torn between wanting to investigate and knowing she should remain, she yelled, "Brian!"
Heavy footsteps heralded Brian's arrival. "I'm here. What is it?"
"Watch Amber." Sheryl jumped to her feet and hurried into the red bedroom. The lid she'd shut moments earlier was open. The gold cylinder churned out a chilling tune. She glanced around the empty room before closing the lid. She'd barely reached the doorway when the lid flipped open and once more the music played. Her breath caught. She stared at the music box.
Author of contemporary romance and romantic suspense, sometimes with sizzle and always with a dash of humor. Work for a small town newspaper along the east coast. Creator of Sheryl Locke Holmes Mystery Series published at Wild Child Publishing: Amber's Mysterious Death, Ruby's Deadly Secret, Opal's Disappearance, and the newest release as of Feb. 19 – Dragon's Pearl. Several short stories published at Ruthie's Club, The Erotic Woman, Erotic Bookworm, and Justus Roux. Has reviewed over a thousand stories for other authors.

Blog: http://cassieexline.blogspot.com

Facebook: www.facebook.com/cassie.exline Twitter: @CassieExline

Buy Link:

http://www.wildchildpublishing.com/mystery-c-83/sheryl-locke-holmes-mysteries-book-4-dragons-pearl-p-413.html