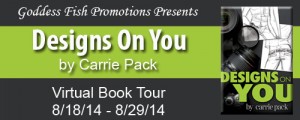 This post is part of a virtual book tour organized by
Goddess Fish Promotions
. Carrie will be awarding a $25 Barnes and Noble GC to a randomly drawn winner via rafflecopter during the tour. A free download of an Interlude Press eBook title or an author/book swag pack (US ONLY) will be awarded to one randomly drawn winner via rafflecopter at each stop during the tour.
Carrie, thanks so much for stopping by. How did you get started writing?
I'd love to be able to say I've been writing my whole life, but in all honesty, I was scared to. I didn't think I had any good ideas. Then I got into writing fan fiction, and that really helped me to find my legs. I still question the quality of my ideas sometimes, but now I have the confidence to know that when I do have an idea, I can write it.
What was the inspiration for your book?
Scott Parker's career in Designs on You was inspired by my experience working as a production artist and graphic designer right out of college. It was interesting work, but it was also be tedious; I did a lot of repetitive tasks. Retouching photos became a part of the gig for me—I did everything from change the color of a blouse to putting one model's head on another man's body.
That's kind of where I got the idea for Scott to fall for a model. When you retouch photos, you have to look at every detail carefully. It's challenging but also monotonous, and you feel like you're violating the model's privacy a bit. What happens when you fall for the model you're forced to stare at day in and day out? Scott fantasizes to avoid the monotony. But what happens when you befriend the person you fantasize about?
What's the one genre you haven't written in yet that you'd like to?
Science-fiction. It's a really challenging genre that I'm just starting to stick my toes in.
Are there any genres you won't read or write in? Why?
I'm not a big fan of mystery novels. It's so hard to find ones that are difficult to solve, and even harder to write them. There aren't many genres I won't read, but mysteries have to be really good and come recommended by a reliable source. And I don't think I could do it justice as a writer.
So, what are you working on right now? Got any releases planned, or still writing?
I don't have any other releases in the works yet, but I am working on a story involving time travel. It's a concept I've always been interested in, and now I think I have a strong enough idea to make it work.
Alright, now for some totally random, fun questions.
Favorite color?
Purple
Favorite movie?
Apollo 13
Book that inspired you to become an author?
I can't think of any one book that inspired me to write. It's more of a culmination of everything I've ever read. I've been an avid reader since I was just three years old. (I memorized books and would "read" them back to my mom.) So for me, it's always been about wanting to create worlds like others had created for me. Books are precious to me, and I wanted to be a part of that.
All right, you have one superpower. What is it?
I always say my superpower is "cutting through the bull," but if I had to pick a traditional superpower, I'd want to be able to fly.
You can have dinner with any 3 people, dead, alive, fictitious, etc. Who are they?
My maternal grandfather because I never got to meet him and my mom tells me he'd have liked me a lot, Ben Folds—I'd love to pick his brain on music, and Oscar Wilde, to tell him that one day the love that sent him to prison would be something he could write about openly and not have to disguise it with code words.
Last question: Which of your characters are you most like and how/why?
I think I'm most like Scott's roommate, Ben. He tells it like it is and isn't afraid to experiment with bacon.
That's all from me, thanks so much for taking the time to stop by!
If graphic designer Scott Parker has to design one more cupcake company logo, he might lose it. So when he is tasked with retouching photos for a big fashion client, a stunning, lanky model mesmerizes Scott and occupies his fantasies long after the assignment is finished. When the model is assigned to one of Scott's projects, Scott discovers that the object of his desire is nothing like what he imagined. Despite Jamie Donovan's aloof and dismissive behavior, Scott struggles to forge a friendship with him, all the while trying to keep his attraction at bay. Will Jamie follow through on signals that he may be interested, or will he forever be the beautiful man in the photograph, an untouchable fantasy?
Enjoy an excerpt:
"Jamie, just make sure you maintain eye contact with the camera," Scott says. "Direct it all at the lens." What he means is, take all that anger, desire, passion, frustration, whatever it is that is holding him back, whatever he's feeling, and channel it into his work. Let it go. He lowers his voice and leans in so only Jamie can hear him. "Direct it all at me if you have to."
Jamie seems to understand because he nods, his eyes fixed on Scott's as his breathing picks up, and if it weren't for the camera and all the lights between them, Scott would swear they're back outside that bathroom, suspended in the second before Jamie kissed him. Then Jamie locks his gaze on the camera lens three feet from his face, determination apparent in the set of his jaw, and a hushed anticipation settles over them. Jamie blinks twice and relaxes into the posture that Scott instantly recognizes as his model's stance; he's ready to go.
Scott smiles and ducks behind the camera, using the viewfinder rather than the digital display. There's an intimacy in it, seeing Jamie through the focused view of the lens, and Scott is awestruck. It's like seeing Jamie for the first time, all of his emotions raw and his soul laid bare—and it's nothing like the pictures Scott used to get off to. This is Jamie the person, the one who is Scott's friend, not Jamie the model or the insane erotic fantasy that Scott had created around him. In that moment of realization, the shock of Jamie's beauty shoots through Scott like fireworks—a sharp point of light that erupts into a shower of sparks in his chest. He holds his breath and snaps the shutter. Zach had left it on a rapid-fire setting, so he shoots about ten frames at once, catching the subtle changes in Jamie's expression. He glances down at the display; even at only three inches wide, he can tell the shots are what they're looking for.
Scott lifts the camera back up and smiles. "All right, Jamie, let's try that again, and this time I want you to really take a risk. Try something new and don't hold back."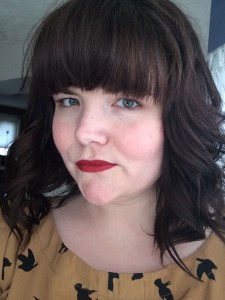 About the Author:
A former graphic artist, Carrie Pack turned to her early career experience as the backdrop for her first novel. She lives in Florida with her husband, where she teaches advertising writing at a local college.
Website ~ Facebook ~ Twitter
Buy the book at
Interlude Press
.

a Rafflecopter giveaway