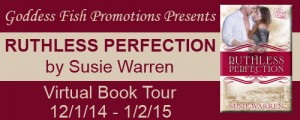 This post is part of a virtual book tour organized by
Goddess Fish Promotions
. Susie will be awarding a $50 Amazon gift card to a randomly drawn winner via rafflecopter during the tour. Click on the tour banner to see the other stops on the tour.
Thanks for stopping by It's Raining Books, Susie. Why do you write contemporary romance? What draws you to it?
I love to read contemporary romance. I'm drawn to the happily ever after, satisfying emotional arc and the fast pace.
For me, the hardest part of being a romance writer is the willingness to explore the emotional core of the story. I get lost in intriguing plots and the structure of the story and have to push myself to fully investigate the emotional life of the characters. But the reader ultimately is looking for the emotional impact in the story so the setting and plot details in a well told romance will be somewhat invisible.
What research was required required for Ruthless Perfection?
I learned a great deal about the history of the marble trade while doing the research for
Ruthless Perfection
. Marble is a very tangible commodity and for most people they have touched a marble countertop or admired a marble statue. Part of the challenge for me was to not allow too much of the history to come in and overshadow the relationship between Isabel and Marc.
Do you have any odd or interesting writing quirks, habits or superstitions?
I have a tendency to write early in the morning as the sun is rising. The house is very quiet at this time and the phone seldom rings. As I get drawn deeper into the story, the house could go up in flames and I may not realize it as I keep putting words on the page. I also like to wear the same cashmere sweater and keep my office set up in the same way.
Are you a plotter or pantser?
I've shifted from a pantser to a plotter. I've always been drawn to creating the structure of the story but I used to allow the characters to set the pace. Now I insist on a framework so the story doesn't go off on a tangent.
Look to your right – what's sitting there?
A stack of books about writing. I like to hold onto non-fiction books and occasionally will glance through them for inspiration.
Anything new coming up from you? What?
My third novel,
The Exiled Jeweler
, is coming out this month.
It's about a shy heiress to a jewelry empire that captures the attention of a celebrated business entrepreneur when she attends a gala at his mansion in Los Angeles. Images secretly captured of her partially nude are released to the tabloids and her overly protective family sends her far away.
Do you have a question for our readers?
Why do you like to read? It is to immerse yourself in another world? Escape everyday stresses? Or is it just the sheer enjoyment of the story?
A filmmaker wanting to honor her family's legacy approaches a reclusive billionaire for help Isabel Neri's innocence captures the attention of a well-known Italian marble mogul, Marc Santoro, when she approaches him against her family's wishes. Wanting to honor her disgraced grandfather, Isabel needs Marc's permission to produce a film about the Carrara marble industry. Faced with honoring an old family obligation, Marc allows Isabel to travel to Italy with him but seeks to limit her exposure to his family's tragic past. Isabel discovers the untold story and challenges Marc to reveal the truth. She is forced to expose her own secret as their desire sparks out of control.
Enjoy an excerpt: Isabel felt a moment of panic as she watched the driver make a swift exit. She carefully walked up the stone path that led to the front door, being careful not to catch her black Manolo Blahnik heels in the stones. The front door swung open and Isabel felt the oxygen leave her body. She wasn't prepared for seeing Marc Santoro in the flesh again. She could feel his gaze rake over her in appraisal, apparently sizing her up. He looked every inch the wealthy business owner: he was dressed in an expertly tailored gray shirt with slightly darker gray trousers that were pressed to exactness. He was even more striking than she remembered, and she reminded herself to just breathe and focus on her pitch. It was his intensity that she responded to; he seemed to be absorbing everything about her. Isabel hid her expression as she acknowledged to herself that while he may appreciate her outward appearance, he wouldn't appreciate her damaged body. Would he remember meeting her before? She forced herself to reach out and offer her hand. As his warm fingers enveloped hers, she felt a spark of attraction travel through her body. She immediately pulled back, but not before she saw his eyes darken. He merely smiled at her reaction, saying, "So you are not just a figment of Alberto's imagination." Guiding her inside, he added, "I was beginning to doubt that the old man had any relatives interested in the marble trade." Isabel felt her spine stiffen. Was he questioning her family's loyalty? "My grandfather speaks very highly of you," Isabel said as she took in the luxurious setting, trying to get her bearings. His voice was cool and didn't give her any clue if he welcomed her visit. "It isn't often that Alberto Neri asks for a favor."
About the Author: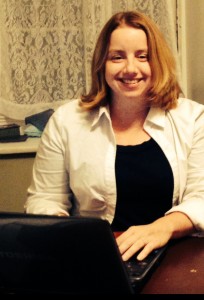 Susie Warren writes contemporary romance. Besides being an avid reader, she spends much of her free time crafting intense and complex stories about falling in love. When she is not writing, Susie works as an administrator in a small, independent school while caring for three teenagers and keeping tabs on her inventor husband. With the launching of her first book,
The Forgotten Heiress
, she has slowly begun to navigate the social media realm. Susie loves to hear from readers and responds to each email and Facebook post. Please reach out to her via
Facebook
or Twitter @susiecwarren For more information on her upcoming releases, new excerpts and other related postings, or to sign up for free promotions, please visit
www.SusieWarren.com
. Buy the book at
Amazon
.
a Rafflecopter giveaway