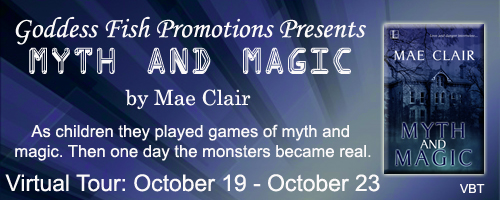 This post is part of a virtual book tour organized by
Goddess Fish Promotions
. Mae will be awarding a $15 Amazon or B/N GC to a randomly drawn winner via rafflecopter during the tour. Click on the tour banner to see the other stops on the tour.
Thanks for stopping by and answering some nosy questions for us. Why do you write in your genre? What draws you to it?
Writing romantic suspense allows me to incorporate mystery and romance in my stories for plots with deeper complexity. I like crafting a suspense atmosphere for my readers, making them think and question along the lines of the mystery, while at the same time delivering a satisfying romance.
What research is required?
I really didn't have to do much research for this novel. What I did have to create were a few legends related to Stone Willow Lodge, plus a murky history regarding the man who originally constructed it in the 1800s.
Name one thing you learned from your hero/heroine.
From my hero: Never allow guilt and/or fear to control you.
From my heroine: Sometimes it's necessary to step out on a limb and risk your heart.
Do you have any odd or interesting writing quirks, habits or superstitions?
Like most writers, I am never without a notebook to jot down stray story ideas whenever they strike. I'm superstitious about a number of odd things (like the number 13), but I don't think they factor into my writing habits. I can't listen to music with lyrics when I write, only soft instrumental compositions (is that a quirk?), and I do my best writing in my den. It has a comfortable, welcoming feel and is my own personal space. In my mind it invites creativity and story crafting.
Are you a plotter or pantser?
A little of both. I used to be a total panster, but I've started a 3-book mystery/suspense series, and it's almost impossible to pants when tackling something like that. I've since learned to make detailed notes and scribble partial outlines. On the downside, I sometimes get stifled by knowing I have an outline to follow. Of course I veer from it frequently, but just knowing it's there can occasionally inhibit the panster in me who can produce far more quickly than the writer who reviews notes to see if I've covered all my bases.
Look to your right – what's sitting there?
My cell phone, the book I'm reading (
The Night Sister
by Jennifer McMahon), the carrying case for the flash drives I am never without (it holds six) and a "Yahtzee to go" game in a read canister.
Anything new coming up from you? What?
I hope to release a short paranormal Christmas novella called FOOD FOR POE in November. I've also just signed a three book deal with Kensington Publishing's new Lyrical Underground imprint devoted to suspense, thrillers, and mysteries. It's the series I mentioned up above.
The first novel, A Thousand Yesteryears will be releasing in April of 2016. The series is centered around odd events that take place in Point Pleasant West Virginia, including the return of the Mothman (remember the movie The Mothman Prophecies with Richard Gere?), UFOs sightings, and mysterious men-in-black. I've visited Point Pleasant twice in the last two years in order to do first-hand research for the series and am thrilled that Lyrical offered me a contract.
Do you have a question for our readers?
Before I answer that, I'd like to thank you for inviting me onto your blog. I loved your interview questions! As for the last,
Myth and Magic
is a Halloween-themed novel. It was so much fun writing that aspect….pumpkins and hayrides, Halloween costumes, and a corn maze. There is even a lavish Halloween party near the end where the guests attend in costume. Personally, I love Halloween because it allows us to indulge in make-believe. I'd like to ask your readers what they enjoy most about October's spooky holiday!
Love and danger intertwine

AS CHILDREN THEY PLAYED GAMES OF MYTH AND MAGIC…

Veronica Kent fell in love with Caith Breckwood when they were children. As a teenager, she was certain he was the man she was destined to marry. But a traumatic event from Caith's past led him to fear a future together. He left Veronica, hoping to save her from a terrible fate. Twelve years later, Caith, now a P.I., is hired to investigate bizarre incidents at the secluded retreat Veronica manages. Returning to his hometown, Caith is forced to face his nightmares—and his feelings for the woman he's always loved.

THEN ONE DAY THE MONSTERS BECAME REAL.

After the callous way Caith broke her heart, Veronica isn't thrilled to see him again. But strange occurrences have taken a dangerous toll on business at Stone Willow Lodge. Forced to work together, Veronica discovers it isn't ghostly apparitions that frighten her, but her passion for a man she has never forgotten. Or forgiven. Can two people with a tarnished past unearth a magical future?
Enjoy an excerpt:
Finding little on the menu she didn't like, Veronica settled on a hot turkey sandwich with provolone cheese and sourdough bread. Merlin ordered baked sole and wild rice, smiling at the pretty brunette who obviously found him attractive. Accustomed to his flirting, Veronica merely waited until the waitress left before continuing their conversation as though nothing had happened.

"What is it you want to tell me about Galen and Aren?"

Merlin shifted, forced to refocus on business. "I'm surprised they didn't already tell you since you're the manager. They think the way to solve the problems up there is to hire a private investigator and have him pose as a guest."

"An investigator?" Veronica tried to act surprised.

"You won't believe what those idiots did." Merlin smiled, but there was something off-kilter about his grin. "They hired Caith, Ron. My screwed up, black-sheep brother is coming home."
About the Author: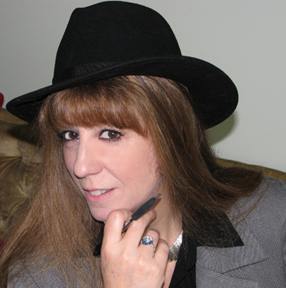 Mae Clair opened a Pandora's Box of characters when she was a child and never looked back. Her father, an artist who tinkered with writing, encouraged her to create make-believe worlds by spinning tales of far-off places on summer nights beneath the stars.
Mae loves creating character-driven fiction in settings that vary from contemporary to mythical. Wherever her pen takes her, she flavors her stories with mystery and romance. Married to her high school sweetheart, she lives in Pennsylvania and is passionate about cryptozoology, old photographs, a good Maine lobster tail and cats.
Website:
http://maeclair.net/blog/
Blog:
http://maeclair.net/blog/
Twitter:
https://twitter.com/MaeClair1
Google+:
https://plus.google.com/+MaeClair/posts
Facebook:
https://www.facebook.com/pages/Mae-Clair/219356774828949?ref=hl
Goodreads:
http://www.goodreads.com/author/show/6468716.Mae_Clair
Pinterest:
http://www.pinterest.com/maeclair/
Buy the book for only $0.99 at
Amazon
,
Barnes and Noble
,
Kobo
,
iBooks
, or
Kensington Books
.
a Rafflecopter giveaway