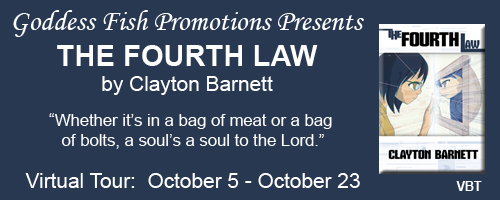 This post is part of a virtual book tour organized by
Goddess Fish Promotions
. Clayton Barnett will be awarding a $30 Amazon or Barnes and Noble GC to a randomly drawn winner via rafflecopter during the tour. Click on the tour banner to see the other stops on the tour.
Welcome to It's Raining Books, Clayton. Why do you write in your genre? What draws you to it?
First of all, I suppose it's a matter of defining my genre. If you include my visual novels as well, then perhaps the broadest definition would be 'speculative fiction.' I recall a moment from some years ago, when working on one of the character paths of OTChi Kocchi; I sent a message to my collaborator asking if I could include 'Secondary World' elements in the story. Naturally, he texted back to ask what the hell I was talking about. I'd borrowed the phrase from Tolkien, who disliked using the term 'magic.'
While, in
The Fourth Law
, I am dealing with technology; it is a technology so advanced that, per Clarke's Third Law, it is indestinguishable from magic. That allows me the luxury of pushing it into the background and concentrating on the characters and their lives together. I suppose I'm drawn to a genre such as this as it allows me tremendous freedom of action when it comes to what I can do with the characters.
What research (or world-building – for fantasy/paranormal/Sci-fi) is required?
I needed not only a reasonable understanding of where AI development is now, but also what readers' expectations might be based upon similar works over the recent years. Something that has always stuck with me, going all the way back to William Gibson's stories in the 1980's, was how fast AI's think. That colors absolutely everything I write about them.
On a more mundane level, Google Maps saved me the airfare and hotel costs of going to Waxahachie, Texas. As I'm talking about a real place in, largely, current time, it was my responsibility to get the lay of the land correct for my story. I actually know someone who lives and works there, and I'd be ashamed as a writer if he called me and said "you got this wrong; that's over there; that's totally different!"
Name one thing you learned from your hero/heroine
I make the time to pray before I go to bed. If I can force myself to make time to write, then I can force myself to take a moment to give thanks to God for letting me write. Lily has made me older in that regard, and I thank her for it.
Do you have any odd or interesting writing quirks, habits or superstitions?
I did, and hopefully it's gone now! I don't really 'write a story.' When I make the time, I sit down at my computer and transcribe whatever scene or scenes that I saw in my mind during the day. It's as if I see fifteen to thirty minute shorts of a video of the action of the novel, and I'm just the guy that's reverse-engineering it into a script.
The problem of that is transitions. When I first wrote T4L, it was "this happened, THEN that happened, THEN this other thing happened…." Looking at my very first draft, I must have written 'then' about three thousand times! That made for a long, horrible bit of editing! Aware of the problem now, I make an effort to avoid it, but sometimes it still creeps in.
Are you a plotter or pantser?
Oh, Good Lord, pants all the way. I made a point of this when giving a talk to the kids at my girl's school about creative writing and self-publishing. When I first started
The Fourth Law
, I'd only the vaguest idea of who Lily Barrett was; I didn't even know Ai's name at that point! The orphanage and hospital, the rest of Ai's family and "their home," that's all things I saw as I wanted to know more and more about who these people are. Even the ending – and the sequel it provoked – was a complete surprise to me!
Look to your right – what's sitting there?
An old secretary desk that used to belong to my maternal grandparents. The front of it is open and the cable modem and wifi router sit there. My wife, of course, has laid some papers on it; likely to be shredded later. Rather banal, really.
Anything new coming up from you? What?
Absolutely! I'm fascinated by these people and very much want to know more about them!. I have already released the immediate sequel to T4L, called
Echoes of Family Lost
; I suppose I need to start another book tour! I've written the text for a 20-page children's book entitled
Henge's Big Day!
That's about Ai's niece; a cute little tale set when she got baptized. That's being illustrated by a wonderful artist in New Zealand; I hope to have it out by late November.
Within the world of Machine Civilization but with a completely different set of characters and hundreds of miles away, I'm collaborating with another artist on a webcomic tentatively entitled
Poisoned Hearts
. Secondary World forces? I'd like a double serving, please!
I've some thoughts and notes about a book that takes place a few years before T4L; the main character, Sylvia Fernandez, is Legal Counsel to Clive Barrett and his domestic terror organization, ExComm. I've never tried to 'see' something as unpleasant as this, and it's been slow-going. I may use the next NaNoWriMo to force this book out!
Do you have a question for our readers?
Oh, surely! For any of those familiar with my stories, are there some things – characters, plot – that you find interesting, and conversely, what things do you not? While these are my stories, I'm curious as to what others may see.
In 2026, 23 year-old apprentice nurse Lily Barrett lives in a shattered time. Following its economic collapse, the US has devolved into a group of a few barely-functional smaller states, and vast swathes of barbarian badlands. Her sister has been missing for years, and her father, after earning the opprobrium of most of the world for running a state terror organization, presumed dead.

Two things keep her going: her live-in job at a small, Catholic orphanage in the city of Waxahachie, Republic of Texas, and Ai, her odd, but dear friend, whom she met online: a young woman who only shows herself to Lily as a rendered CG image.

Troubled by her past, haunted by her name, and facing an uncertain future, Lily seeks only a quiet, normal life. But, that past and her present conspire against her. A new Morning has come, and with it, delights and terrors, happiness and adversity.

Where do we come from?
What are we?
Where are we going?
Enjoy an excerpt:
Lily went off to her right while Ai continued towards the Office building. She'd just started moving the gate when another of Ai's groupies stepped out of the darkness.

"You. Are you the robot?" The woman's snippy, non-Texan voice was one thing; calling Ai 'the robot' was yet another.

"No, I'm not! This orphanage is closed for the day! Please come back tomorrow... with a donation!" Take that, Carol!

"If you ain't the robot, you're Barrett!"

Lily heard an odd, loud pop. Fireworks? She took one step back, started falling backwards. There it was again.

"That's for closing the Wymyn's Studies Department at the University!" Lily wondered if that was even English.

She found herself suddenly on her butt; why did she sit down? Running. Was that Ai? She rocked her head up just as Ai leapt over her. Did Ai just kick that rude woman in the head? Suddenly cold, she put her hands across her chest. Why was her chest so wet?

Ai was kneeling next to her. "Lily! You've been shot!"

Oh, please! "Ai... don't be silly... I'm fine...urk!" She coughed something dark and nasty onto Ai's face. "Oooo! I'm soooryyy... Ai! I'm so tired... want to slee—"

Faintly, she heard Ai scream louder than she'd thought possible. "DORINA!"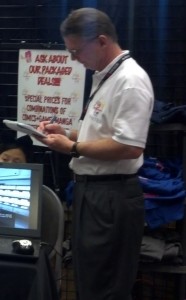 About the Author:
One time engineer, some time pharmacy technician, full time husband and father, Clayton Barnett stumbled into writing a traditional novel last November during National Novel Writing Month. Liking the results, he edited what would become "The Fourth Law" and set about teaching himself self-publishing. In July of 2015, he released a sequel entitled "Echoes of Family Lost," in what is now called his Machine Civilization series. He is working on a third book – for children – and is making notes for a fourth. Clayton Barnett lives in central Ohio with his wife, two daughter, and two dogs.
Website:
http://www.machciv.com
Buy the book for
$0.99
from
Amazon
.
a Rafflecopter giveaway