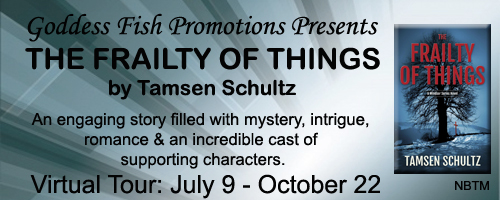 This post is part of a virtual book tour organized by
Goddess Fish Promotions
. Tamsen Schultz will be awarding a $30 Amazon or Barnes and Noble GC to a randomly drawn winner via rafflecopter during the tour. Click on the tour banner to see the other stops on the tour.
What did you want to be when you grew up?
I wanted to be so many things that I think that's why I write now—I get to inhabit different professions (if only superficially), live in different places, and experience different things all while I write. That said, my first memory of wanting to 'be' something was probably when I was really little and I used to go to the hospital with my dad while he did rounds with his patients. I think the donuts they always had and the fact that I could play with the rubber gloves (I used to blow them up and draw faces on them, anyone else do that?) made it seem like a great job to have. The idea of being a doctor stayed with me through college where I finally ended up being a philosophy major and then becoming a lawyer (yes, second semester of organic chemistry killed me). But though being a doctor was always in the back of my mind, along the way I also wanted to be a vet, a writer, a professional rider, a diplomat, a CIA agent, and a few other things that fall into the government/international affairs bucket of jobs. I think it's one of the great travesties of our system of professionalism that having only one career is the standard. There are, of course, a number of people (a lot of women, actually) that are now able to manage more than one in their lifetime and hopefully I'll be one of them, but unfortunately, I'm not certain I could fit in everything!
Coffee, tea or hot chocolate?
All three are popular in our house! I prefer coffee, but when we have lots of guests over, or my stomach just isn't ready for coffee, we make chai (my husband is from India and we use his grandmother's recipe). My kids, of course, love hot chocolate, although the younger one sucks up chai like a little leach, too. If you're interested in trying chai, here's the recipe!
Chai Masala (this is the mix of spices you will add to black tea. Make this masala and then only add about a 1/2tsp of it per cup of tea you make. It keeps for a while so you can store the rest in the cupboard with the rest of your spices)
3 tsp ground ginger
3 tsp ground fennel
2 tsp ground black pepper
2 tsp ground cinnamon
1 tsp ground clove
½-1 tsp ground cardamom
We add water, tea bags (just use a black tea without too much unique flavour. We use Lipton, but you can use any brand), the appropriate amount of masala, and sugar to taste to a pot and boil it all together (for the sugar, start with about 1tsp per cup, but you may want a little more. Traditional chair is quite sweet). Once it's boiling, reduce the heat and add milk to a nice latte colour. Let the milk warm up, then remove the tea bags, pour and enjoy!
What genre do you typically read? Why?
I pretty much read every genre expect fantasy, horror, and sci-fi. I just started a mystery book group with a neighbour as I LOVE mysteries (this should come as no surprise given that I write romantic mysteries), but I also started a book group at the company I work for and we're reading non-fiction business books, which I am surprised to discover I'm finding interesting. I love a good literary fiction novel though too, especially ones that dive into family and community. And when I'm really stressed out, I turn to regency romance—they are a total escape and I love pretending I have little more to do than sleep, organize a house, wear pretty dresses, ride horses, and go to balls (and yes, I'm aware that's not really how life was like back then, but like I said, I like to pretend!).
Share a favourite childhood memory.
One of my favourite childhood memories is our first big trip out of the US when we went to Fiji. We flew from San Francisco to Hawaii and when we arrived there, our connecting flight to Fiji hadn't left LA yet so we ended up flying to Australia and then back to Fiji (about an extra eight hours of travel time). We arrived at the international airport late and had to drive across the island to the local airport for a flight the next day—the roads were mostly one, maybe one-and-a-half, lanes and we were driving on the left side (my first experience with that) and it was getting dark. Along the way, my parents and a family friend traveling with us decided we needed to stop and see one of "The Most Beautiful Beaches in the World," as decided by some magazine. To get there, the roads were unnamed, narrow, and dirt. Needless to say, a time to two, we needed a little extra help to get to where we wanted to go. We finally made it to the beach and then on to the town we were staying at for one night before flying onto the small island where we were staying. Only when we got to the airport the next day, we arrived just in time to see our flight (the only one of the day) taxing down the runaway without us. It was about 48 hours of a comedy of errors, but I love that memory because it was the first time that I really recognized the fun in just going with the flow. We laughed a lot in those few days (and during the rest of the trip) and made the most of our unplanned experiences.
Do you have any shameless addictions? ie. Tea, Books, Shoes, Clothes?
Books, books, and more books. I honestly think I have a small addiction to shoes, too but I'm doing my best to not let that one take over my sanity (and bank account!).
What do you think is the biggest challenge of writing a new book?
Starting. Honestly, for me starting a new book feels overwhelming. I usually know where I want it to go, how I want it to end, and the major plot points along the way so when I sit down to write for the first time I know exactly how long of a journey I have ahead of me to fill that huge canvas. It can be a bit daunting.
Do you aim for a set amount of words/pages a day?
I don't. I've said this before, but for me (and I think a lot of women) I'm really good at feeling guilty about things I either do or don't do (I didn't make sure my son had enough in his lunch, I didn't get that laundry folded, I forgot to call my mom….you probably know what I mean). I'm trying to let some of that go and I know if I give myself daily word counts, it will just become one more thing I will feel guilty about not hitting. And so I don't do that to myself and instead, I write when I can and when I do write, I'm very focussed and productive.
What are your thoughts on writing a book series?
I love writing a series because I love community and a series lets me create one that is dynamic and engaging. In addition, a series like mine, where the location is essentially a character, also allows me to use the location familiar to my readers to enhance or minimize the actions of the people. In other words, setting different characters in similar places (like the hospital or the local coffee shop or the local quilt shop) can help show each character's unique personality. I also love that I can give me readers little glimpses of people and couples after they've each had their own happy-ever-after in previous books and I can also introduce new characters slowly before finally giving them their own story. In short, I love the continuity and depth writing series offers to both authors and readers!
Independence. Kit Forrester is a woman who wears her independence like armor. Despite keeping secrets and hiding her past, she's built a life she loves and is accountable to no one. Until, that is, one of the world's most wanted war criminals sets his sights on her and she must weigh the risk to one against the chance of justice and closure for many—a decision Kit couldn't make on her own even if she wanted to.

Certainty. As a man who makes his living in the shadows of governments and wars, certainty isn't a part of Garret Cantona's vocabulary, and he's just fine with that. But when Kit walks into his life, he realizes he's never before been so sure about anything or anyone. Suddenly, he finds he's looking at the world, his world, in a different light. And now that he is, he's determined to protect it, and her, in whatever ways he can.

Frailty. No one knows better than Kit and Garret that an appreciation for what is, or what was, or what might be, can be born from the uncertainty and fragility of life. But when a hunt for a killer leaves Garret no choice but to throw Kit back into her broken and damaged past, even his unshakable faith in what they have together might not be enough to keep it from shattering into a million pieces.
Enjoy an excerpt:
"We need to talk," Caleb said. Kit didn't respond for a moment. She and her brother didn't talk. They never talked. Not anymore. There had been a time in their lives when that hadn't been the case. There had been a time when she'd idolized her older brother, when he'd looked out for her, when they'd gone fishing together, and when she had believed that he had an answer for everything.
But that time had long ago passed, and they hadn't been in each other's presence for more than a few days a year for over a decade. Kit started to speak but stopped short when a second figure emerged from the passenger side of Caleb's car.
She was glad her face was hidden in the shadows of her hat and scarf as Garret Cantona, her brother's right-hand man, straightened to his full height. Kit was tall, easily five foot eleven, but Garret's six-foot-three form dwarfed hers. Like Caleb, he wore jeans and work boots, but rather than a jacket, Garret sported a black sweater and a gray beanie. She knew the hat covered light-brown hair that, if it got too long, curled in ways that bothered him. And she felt, more than saw, his light-blue eyes—eyes rimmed with thick, black lashes—studying her.
"And I see you brought your Mini-Me," she added, forcing her gaze from Garret back to her brother in time to see a look of irritation flicker across Caleb's face.
About the Author:
Tamsen Schultz is the author of several romantic suspense novels and American Kin (a short story published in Line Zero Magazine). In addition to being a writer, she has a background in the field of international conflict resolution, has co-founded a non-profit, and currently works in corporate America. Like most lawyers, she spends a disproportionate amount of time thinking (and writing) about what it might be like to do something else. She lives in Northern California in a house full of males including her husband, two sons, four cats, a dog, and a gender-neutral, but well-stocked, wine rack.
Author Facebook:
https://www.facebook.com/TamsenSchultz
Author Twitter:
http://www.twitter.com/tamsenschultz
Author Amazon:
http://www.amazon.com/Tamsen-Schultz/e/B009NVIEGO
Author Goodreads:
https://www.goodreads.com/tamsens
Author Website:
https://www.goodreads.com/tamsens
Buy the book at
Amazon
or
Barnes and Noble
.
a Rafflecopter giveaway