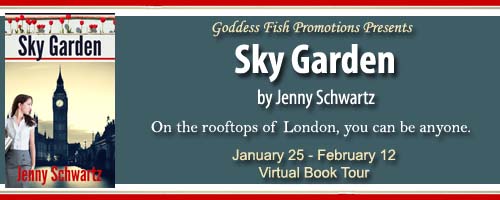 This post is part of a virtual book tour organized by
Goddess Fish Promotions
. Jenny Schwartz will be awarding a $25 Amazon or Barnes and Noble GC to a randomly drawn winner via rafflecopter during the tour. Click on the tour banner to see the other stops on the tour.
Five Things You'd Never Guess About Me
Oh this is fun!
First, you'd never guess that I got my first grey hair at sixteen and it was discovered, appropriately enough, in maths class! The desks were really close together, and a friend (so kind of her) pointed it out. I gave up dying my hair ages ago, although I am tempted by that rainbow unicorn look. But, no, I'm too shy to pull that off.
Second, you'd never guess that I can actually draw. I'm not saying I'm an artist, but if you ask me to draw an apple you can guess it's an apple—or maybe a funny-shaped pear. I like painting, but I lack true talent for it (and time), so I happily occupy the role of audience instead and attend exhibitions, etc.
Third, I'm so chatty online you'd never guess how frozen I get with stage fright. Never, ever attempt to interview me live. I sound stoned—not that I'm confessing that I've ever been stoned! Moving on!
Fourth, thing that you'd never, ever guess is that I once kept a Siamese fighting fish. I'm not really a fish person, but at the time I lived in a flat with a no-pets rule. A fish was the compromise. Sam was a lovely ruby red colour and seemed a happy enough fish until the morning he was found dead. Poor Sam. He was my first and last pet fish.
The fifth and final thing you'd never guess about me, and I mean never guess, is that I've been to Summernats. For those not Australian, this is
Summernats
. I am not into cars, motorbikes or anything like that, but there might be photographic evidence somewhere (I think it's lost) of me drinking bourbon and encouraging burn-outs. Yep, you'd never guess! I have a vivid memory of walking carefully back to the car that night, picking a path between lounging bikies, having been thoroughly lectured on not saying anything stupid (I sometimes need those lectures).
So there you go! Five things you'd never guess about me. Thanks for asking!
On the rooftops of London, you can be anyone.

A year ago, Lanie Briers escaped a serial killer. She grew up in a theatre family and her act was mediumship, but not anymore. Life, now, is a hidden retreat above a quirky Bloomsbury museum, where she waits and watches.

Nick Tawes is an unexpected intrusion. He's a landscape architect filming a television series on roof gardens, and he intends to build one in Lanie's aerial territory. He has his own demons, old family troubles, that lure Lanie out of her refuge and into living again.

But as summer progresses and the sky garden grows, Lanie's enemy is closing in--because some secrets must go to the grave.
Enjoy an excerpt:
Stories fed identity—and changed it.

Lanie had used stories to shock and survive. She'd used them carefully, crafting her old stage act of mediumship to draw out people's stories and reflect them, eliciting gasps of awe at her insight. Magic, went the murmur. But it wasn't magic. They were the same tricks conmen used.

And she'd used those tricks brutally, as the one weapon left to her. Survival had cost her the joy of performing.

But that was the past. She forced the memories away. Here was safe harbor, the library that was a sea captain's final berth. A fantasy, but a comforting one.

She was searching for a spy glass to add to the photos she'd take when the electronic beep from the front door signaled the entrance of a visitor.

Showtime.

A tug at her jacket and a pat to her hair—Good, the chignon doesn't wobble—and she was ready to perform.
About the Author: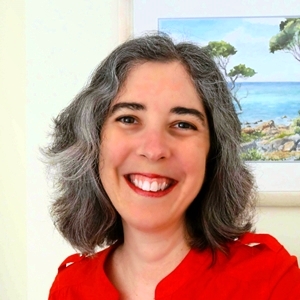 Jenny Schwartz is a hopeful romantic with a degree in Sociology and History — people watching and digging into the past. She lives in Western Australia and is working towards her dream of living by the sea. Jenny writes romantic suspense, as well as contemporary and paranormal romance.
Website:
http://authorjennyschwartz.com
Facebook:
https://www.facebook.com/JennySchwartz.author
Twitter:
https://twitter.com/Jenny_Schwartz
Buy the book at
Amazon
. It's on sale for only $0.99 during the tour.
a Rafflecopter giveaway