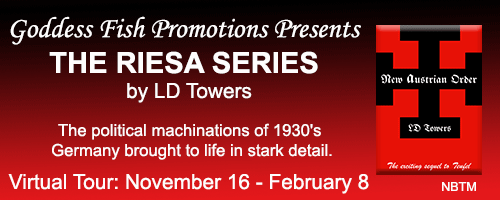 This post is part of a virtual book tour organized by
Goddess Fish Promotions
. LD Towers will be awarding a $40 Amazon or Barnes and Noble GC to a randomly drawn winner via rafflecopter during the tour. Click to win the other stops on the tour.
Why do you write in your genre? What draws you to it?
I am a military historian by education, so writing military and historical fiction was a pretty natural jump. Why do I write about Germany between WWI and WWII? It was such a dynamic time. When you take the space of what was the Nazi era in Germany through to the end of WWII? It's just 12 years. It's amazing to see what the world did in that short amount of time. These days, it feels like our leaders need 5 years just to get out of bed in the morning. I find it really interesting how much faster the world seems to have moved in that small space of time.
What research is required?
I do a lot of research. It's a really big part of what I write. Everything I do is documentable if it involves the actions of the real people mentioned in the book. From time to time I think of doing an actual bibliography for the Riesa series… but that smacks of a lot of effort! Maybe one day I will produce an annotated version! :)
Name one thing you learned from your hero/heroine.
Galiena's life is like Tubthumping by Chumbawumba. I get knocked down… but I get up again…
Hagen? He's a lot more complicated. I think he is a real example of how generally good people can get caught up doing things that they wouldn't normally do, and that they can convince themselves of virtually anything when they need to. He's actually a fairly stand-up person, and yet there are somethings he does- especially in Teufel- that are really bad, and he knows it. Usually it's because the end justifies the means… But he has a couple moments of being just a bad person. I think we all have that quality on some level. He has a very high level of personal power, and as they say- Absolute power corrupts absolutely. He's on his way to a bit of a fall though- at the end of book three.
Do you have any odd or interesting writing quirks, habits or superstitions?
I always write listening to music, and probably spend far more time than I need to working on playlists! I often have a glass of wine or some other libation when I'm writing. I find it helps with the creative juices. But I have learned over the years that while you can drink and write, don't drink and edit. Listen to Aunty LD, kids! Just don't drink and edit! I spent a fantastic evening editing Teufel- in the bath while drinking a rather large amount of Campofiorini… and… all my pen on paper edits? That stuff was GOLDEN! To this day I remember that the changes fell like pearls from the tip of my pen. The problem was that I couldn't read any of it the next day. I don't drink and edit anymore.
I actually used to do all my edits on paper and then enter it into the computer… I don't really do that so much anymore- I just do it directly on the machine, so no more trying to negotiate a giant binder of paper into the bath. But the laptop doesn't come into the bath either. No more bathing and editing.
Are you a plotter or pantser?
Pants. Plotters are strange. Just thinking about it makes me feel like I've put my bra on the outside of my dress.
Look to your right – what's sitting there?
Burt's Bees Nourishing Milk and Honey Body Lotion. I'm a Burt's Bees fanatic. FANATIC!
Anything new coming up from you? What?
Anschluss, the sequel to New Austrian Order is in the works. This finishes the story of Austria and it's going to end with a bit of a bang. I've always said that New Austrian Order and Anschluss were my Empire Strikes Back. Originally they were supposed to be the same book but it was just getting too big.
I'm also working on a series of novellas about Meinrad von Steinberg's life. He's a VERY bad man, but he's an interesting one. We have a very big hint in New Austrian Order about why he did what he did to Galiena, and it all becomes clear in the novellas. He was designed to be a foil to some of the real characters in the Riesa series who were also very bad men.
Do you have a question for our readers?
What makes you buy a book? The cover? The blurb on the back? What makes you go… I NEED IT!?!
1938. Germany is moving faster than Standartenführer Hagen Kohl thought possible. Sent down to Vienna to investigate a potential threat to Hitler's plans for Austria, Hagen is drawn in to an aristocratic world he's never encountered before. Without Hauptsturmführer Eugen Friesler at his side, Hagen is in more danger than he could have imagined as he hunts for a shadowy organization called the New Austrian Order. Back in Germany, Galiena von Steinberg returns to Riesa and the von Steinberg Gesellschaft, but taking over the reins of her Grandfather's empire comes with many challenges. Can she protect her family holdings while keeping true to the new sense of self she has worked so hard to find?
Against the politically charged background of Nazi Germany's police state, Standartenführer Doctor Hagen Kohl is trying to carve out a profession for himself in the SS. A middle class intellectual with a doctorate in Literature, Hagen is a an investigator who hunts criminals within the party apparatus itself. Hagen justifies everything by his personal code and patriotism, unable to see the flaws of the regime he serves. When he is ordered to investigate members of the army, he discovers patriotism is entirely a matter of perspective. His eyes are further opened by exposure to Galiena von Steinberg; an aristocrat whose own experiences bring him into the entanglements and intrigues at the highest levels of Third Reich society.
Enjoy an excerpt from
New Austrian Order
:
The parade ground was large, and all about there were people. The SS men, in their black uniforms, and the camp guards in their grey seemed drab on the sunny square. There were so many, trailing behind Himmler like a flock of crows. Galiena hated that analogy, but it seemed so appropriate. Here and there she saw people she assumed to be prisoners, in their black and white horizontal striped suits, and grotesquely shaved heads. They almost reminded her of larvae, their scalps so pale in the light. One man turned and stared at her, the bright splash of colour that she was, as if he couldn't believe his eyes. Then his face dropped back to his toiling in the black earth of the flowerbeds near the Administration building. The place was so dour. So grey. In her scarlet, echoed only in the swastika flag on the flag pole, she must look like a drop of blood on a piece of slate.
Himmler moved to intercept her, his eyes shining with something she couldn't define. In this place he was a thousand feet tall, and his knowledge of his power emanated from him in waves. The men trailing after him followed his every movement and gesture. When he smiled, so did they, when he laughed, they echoed, and the moment he stopped, there was silence behind him. Galiena had never seen this Himmler. This was the Reichsführer-SS, and his power was consuming. His eyes met hers, as he clicked his heels and bowed his head before her. When the peak of his hat came up again, he was smiling; warmly and broadly. More the man of her acquaintance, but the look in his eyes seemed to mock her. This Himmler was a predator and he was in his lair with all his sycophants around to admire his magnificence.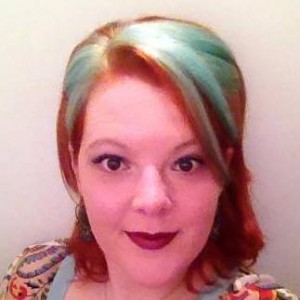 About the Author:
LD Towers travels the world like a rootless vagabond! A military historian, she searches out places of conflict to find a deeper insight to the things she writes about. Presently enjoying the warm weather and azure seas of Central America, she has lived all over Western Europe, including 5.5 years in the incomparable Berlin.
Primarily working in Historical and Military Fiction, LD sometimes sneaks in the odd Dystopian or Modern Thriller piece. Also look for a series of novellas about the despicable yet intriguing Meinrad von Steinberg from the Riesa Series, coming in fall 2015.
Website:
http://www.ldtowers.net
Twitter:
http://www.twitter.com/L_D_Towers
Facebook:
https://www.facebook.com/LDTowerswalks
Amazon Author Page:
http://www.amazon.com/LD-Towers/e/B00ZMFTJTQ
Buy
New Austrian Order
at
Amazon
.
Buy
Teufel
at
Amazon
.
a Rafflecopter giveaway