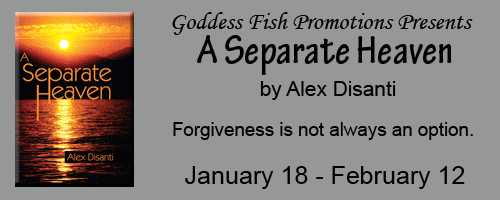 This post is part of a virtual book tour organized by
Goddess Fish Promotions
. Alex Disanti will be awarding a $25 Amazon/BN GC to a randomly drawn winner via rafflecopter during the tour. Click on the tour banner to see the other stops on the tour.
Hi everyone! Welcome to the tour for my series A Separate Heaven. I'm Alex Disanti and it's my pleasure to be here at Its Raining Books. Alex is my pen name and people call me by that name at events relating to the books so half the time I'm Alex, the other half Ellan, but I have become quite adept at answering to both. Use of pen names has intrigued me since I was a child. The idea of having another name – one that I chose! – and I could be that person! And, maybe just maybe, I wouldn't be shy. I wouldn't be uncomfortable in large groups of people. Well, of course acquiring a pseudonym didn't change anything except my name, but I do enjoy seeing "Alex Disanti" on my book covers. In the end, I didn't actually choose the name Alex. Due to a typo (my own) on the copyright form I am Alex as opposed to Alexandra, something for which I am grateful. Alexandra Disanti is a bit much!
As with most writers, I have always loved words. During a conversation with a friend years ago, I mentioned to her that words and their meaning had always held a fascination for me. Even before I was old enough to attend school I would copy words onto a piece of paper, whatever was available, and I would look up their meaning in a large dictionary that belonged to my father. My friend, who is an accountant, understood. But numbers were her thing. As a child she had walked her neighborhood and copied down the address from each house. So perhaps each of us has an inborn calling. If so, then I believe whether we answer that call or not is strictly up to us. I do not believe answering it guarantees our success, but I do believe each of us is graced with a special talent that we should recognize and pursue to the best of our ability. That in itself is rewarding and holds its own measure of success.
Even though books and writing are lifelong loves, I have worked in other venues to earn a living. For one, I worked in the lab at a hospital as a histologist doing tissues and slides. Primarily though, I was employed by an engineering and construction firm in West Texas that designed and built gas plants. We specialized in cryogenic processes. I wrote specifications and procedures and also worked for them as a welding inspector. Anyone who has ever worked in quality assurance will tell you that some days it is the equivalent to walking around with a sign on your forehead that says "Hate me!" No one enjoys being critiqued. That part I understand, but some take it better than others. It was a great job but being a female welding inspector can, at times, come with a few perils.
I don't know if I have a full blown fear of heights because I enjoy hiking, driving through the mountains etc. But standing on a ladder or rooftop, looking down from a tall building, even watching some scenes in movies definitely makes me cringe and causes a weird sensation in my hands and feet…seriously. There was a situation on a jobsite though that let me know I could rise to the occasion and do what was required despite my fear. Our company was building a huge CO2 recovery plant and we had several inspectors working in the field. One day our client's inspectors came to my office and wanted to check the trays in an ERC column. All you need to know about this is that the ERC's were 217 feet in height. I couldn't locate the other inspectors so I had to go. These were nice guys but they were grinning like the proverbial Cheshire cat and I know they didn't think I would climb that tower. I will say that climbing up that column was a lot easier than coming down, but here I am.
I can't say that my past occupations have had a part in writing A Separate Heaven; however, there are already some characters and scenes being played out in my mind for a future book and the setting is the West Texas oil patch. But in the meantime, please step into a world of drama and follow the lives of some fascinating characters in A Separate Heaven.
Thank you so much for joining me today at Its Raining Books. I am always happy to answer questions and I appreciate your comments. Wishing you a wonderful week!

Step into a world of riveting drama. Enter A Separate Heaven, a story comprised of power, wealth, and romance, multifaceted characters, and complex relationships. A novel by Alex Disanti. From Long Island to the shores of the Mediterranean, this exciting series spanning twenty five years in the lives of the Gianelli and Hamilton families will hold you spellbound.
Enjoy an excerpt:
Around 1:00 A.M. Paige found she couldn't sleep. As quietly as possible she eased herself from the bed and walked out onto the balcony. The weather was still nice. The breeze from the water was cool and she could see the waves crashing against the sandy beaches. Below her, the pool looked inviting. His soft snoring assured her Dominic was sleeping soundly. Hesitating only a moment, she tiptoed into the bathroom, wrapped herself in a big towel, and made her way down the stairs and outside to the pool.
She dropped the towel and slipped into the warm water that felt like silk on her naked body. Leisurely, she swam back and forth, again and again. This was heaven. It was all heaven. She lay on her back, floating, her eyes closed, replaying in her mind the wedding and all that had happened since.
Finally, she began to tire and, feeling she could sleep again, made one last lap underwater, crawling along the bottom of the pool. As she entered the shallow end, her hands reached for the tiled rim as she emerged, breaking the surface of the water.
Suddenly, something like a steel vise gripped her wrists, jerking her upward, and she was momentarily airborne. Her feet slammed against the concrete, jarring her from head to toe. Now Dominic had her by her shoulders and was shaking her. She knew he was saying something, but she could hear only the roaring in her head. Not six feet from them stood two men with guns. Behind them on the massive walls that surrounded the villa were several more.
About the Author:
Alex Disanti lives in the Texas Hill Country. While writing has been a lifelong love for her, A Separate Heaven is her first novel. Early works were mainly poetry and short stories. As A Separate Heaven progressed from thought to paper, friends and family began reading the manuscript. Then, in an effort to test the marketability of the material, she enlisted the aid of what she calls her "test readers." These readers vary in age, occupation and background. It simply grew from there. Alex's rich detail brought the characters to life, and the ensuing chapters could not come quickly enough for her readers.
Author Facebook:
https://www.facebook.com/alex.disanti.5
Book Facebook:
https://www.facebook.com/ASeparateHeaven
Twitter:
https://twitter.com/AlexDisanti
Website:
http://alexdisanti.com
Buy the books at Amazon:
Book One
,
Book Two
,
Book Three
.
a Rafflecopter giveaway