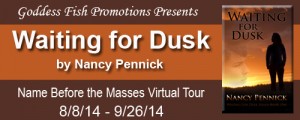 This post is part of a virtual book tour organized by
Goddess Fish Promotions
. Nancy will be awarding a $10 Amazon Gift Card and a PDF or mobi copy of Waiting for Dusk to a randomly drawn winner via rafflecopter during the tour. Click on the tour banner to see the other stops on the tour.
Why do you write in your genre? What draws you to it?
So far my young adult novels are the only ones that are published. I like writing in that genre and also reading it, too. Going back to a time in everyone's lives where we all make mistakes, can be self-absorbed and sometimes easily influenced has great potential for story telling. The teen years are the growing up years, shedding childhood and forming new ways of looking at the word.
I have a few Middle Grade/Preteen in the works and would like to write some New Adult. The fun of writing is that you can let your mind go anywhere you wish. You can stay in reality, time travel in science fiction, have elves battle trolls in fantasy…the world is yours for the taking. I enjoy writing what I like to call fantasy or magical realism. I hope the reader can picture themselves in the every day world I create and then all of the sudden…a fantasy life happens.
What research (or world-building) is required?
All of the places Katie visits are real. If you've been to the Grand Canyon, you expect it to be accurate. I have visited twice. The second time I checked my story facts. Every author is entitled to artistic license where they can bend the facts or truth. It wouldn't be fun to write, if you couldn't!
Katie is a Harvey Girl at the El Tovar restaurant. I did research on Harvey Girls and found it interesting. Fred Harvey brought well-educated girls out west to be servers in his restaurants. They had to be eighteen so that's where I used the license because Katie is only sixteen. El Tovar is a hotel at the Grand Canyon. You can stay overnight and still eat there. In 1927 a person had to pay to use the Angel Bright path to the bottom of the canyon. Readers will learn a little history, but not too much that it overpowers the story.
Name one thing you learned from your hero/heroine.
Sometimes you can't do everything on your own. You have to reach out to others for help. You have to trust their judgment and be able to let go of the reins. That can be hard for me at times.
Do you have any odd or interesting writing quirks, habits or superstitions?
Since I don't drink coffee or smoke cigarettes I can't paint you a picture of my desk filled with those things. No coffee rings or a collection of half-filled mugs surround me. A cup of tea is more my style. Picture me sitting at a computer desk with clutter around me…necessary clutter that is.
I love writing in the mornings but life gets in the way. Sometimes I have to break away and finish up in the late afternoon. I have no set goals. I write what's stored in my head for the day--if that makes sense. I'm not happy until I get it on the printed page.
Are you a plotter or pantser?
A combo? I found I do not like outlines. I tried, I really did. Then I discovered I was trying to think up things for each chapter just to jot it down on the outline. I can't start with just an idea either. Sitting in front of my computer waiting for the plot, dialogue to come to me doesn't feel quite right either.
I plot the story out in my head—beginning, middle, end. I research, if needed, and usually name my main characters before I start. After that, I can sit and start writing.
Look to your right – what's sitting there?
Another desk. We have turned a downstairs bedroom (off the kitchen) into a computer room. There is messy clutter everywhere, necessary clutter. If you knew me, you'd laugh, because I like organization. My house is kept in order except for this room for some reason.
Anything new coming up from you? What?
Two things actually. I have a prequel coming out this winter for the
Waiting for Dusk
series. It is not a fantasy romance novel, no time travel. It will be historical romance that tells about Anna's journey from boarding school to the Grand Canyon. Her best friend, Lucinda, is also in the story. When they get to the canyon, things don't go too well for the girls. A cowboy comes between them.
The second project is a short story I've written for an anthology of holiday stories. The book,
Frozen
, will celebrate the season of winter with sweet love stories. My publisher put a call out to her authors and asked for stories. That should come out in October/November sometime.
Do you have a question for our readers?
First a statement. If you read all the way to the bottom and got to this question, thank you!
My question is – Are you willing to try new authors? Ones not recommended by the news media/friends/social media?
If you are, you are an author's best friend. Thank you for taking a chance.
Read a book.

Fall asleep.

Meet a boy.

Is it real or just a dream?

Katie's everyday life suddenly turns exciting when she travels back in time and meets the boy of her dreams. Thinking of nothing else, willing to leave the real world behind, she's determined to find out if it's all a dream or not. Returning again and again, Katie almost has her answers until one day her precious book goes missing.
Enjoy an excerpt:
At that moment, there was a tap at the window. The girls grew quiet and all turned toward the window. It was nearing dusk and hard to see.

"Probably some creature," Ruthie said casually.

Then there was a tap, tap, tapping sound again.

"Unless it knows how to make a rhythmic tapping sound, I don't think it's an animal. I'm going out there to see," said Katie.

"Not a good idea!" Lucinda shouted after her.

By then Katie was down the hall and out the door. The warm night air hit her face. It felt good to get out of Lucinda's room. It was closing in on her, especially after the strange attack on Anna.

Katie was deep in thought, when she heard a sound. A footstep? She spun around to see Drew standing there. "Oh, I didn't mean to startle you, Miss Kathryn. You did say you were staying at the boardinghouse and I thought I'd come to see if you are comfortable. If you have everything you need."

That's a good line, Katie thought. He was so handsome in the moonlight she could have stayed in that spot forever. Drew walked over to her. "I have never seen anyone as beautiful as you."

"Lights out!" Mrs. Johansson called in the distance.

Katie couldn't help it. It was her dream after all. She fell into Drew's arms and kissed him. He kissed her back. They seemed to melt into each other as one. Right then and there Katie wished that it was not a dream and that it would never end.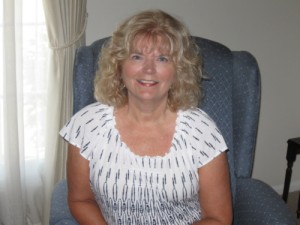 About the Author:
Born and raised in Northeast Ohio, Nancy currently resides in Mentor, Ohio with her husband and their college-age son, plus a delightfully entertaining lovebird. Her writing is influenced by all the years of working with young people as a teacher and raising her own son. When not writing, Nancy loves to travel with her husband and enjoys a good cup of tea.
Waiting for Dusk
is the first in her three book series.
Call of the Canyon
and
Stealing Time
continue the story of Kate and Drew.
@npennick
Facebook
Blog
~
Amazon Author Page
Buy the book at
Amazon
,
Barnes and Noble
,
Publisher
,
Smashwords
, or
Kobo
.
a Rafflecopter giveaway