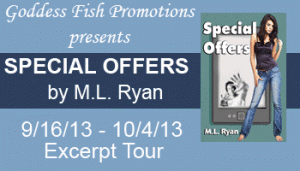 This post is part of a virtual book tour organized by
Goddess Fish Promotions
. M.L. will be awarding a $25 Amazon gift card to a randomly drawn commenter during the tour. Click on the tour banner to see the other stops on the tour.
Meet Hailey - possessed by an otherworldly being who was trapped in her Kindle.

Hailey Parrish was quick-witted, irreverent, and hadn't had a date in three years. She only wanted an eBook reader because her collection of paperbacks threatened to take over her small living space. Little did she know that the "special offers" that prompted the purchase included much more than a reduced price in exchange for a few ads. The device came pre-loaded with the essence of Sebastian Kess, an erudite womanizer with magical abilities from a parallel dimension. When she inadvertently releases him and he inhabits her body, she finally has a man inside her, just not in the way she imagined. And soon her predicament introduces her to yet another supernatural, the handsome could-be-the-man-of-her-dreams Alex Sunderland. Can Alex and Hailey find a way to return Sebastian to his own body, stay one step ahead of the criminals who want to keep him where he is, and not lose their sense of humor?

Special Offers, the first book of the Coursodon Dimension Series, combines paranormal romance, urban fantasy, a bit of science fiction and a healthy dose of quirky humor.
Enjoy the following excerpt:
"Since when do you drink your coffee anything but black?" she said curiously.

I looked down at my coffee and was surprised that it was a light toffee color and that the half and half container was opened and sitting on top of the table.

"Huh. I didn't even realize I had put that in," I shrugged as I put the carton back in the refrigerator.

"You put in two teaspoons of sugar too," she continued, her eyebrows arched as if to say "what gives?"

"Really?" I sniffed the contents of the cup before I took a tentative sip. I fully expected to be appalled by the concoction, but I figured I should try it rather than just dumping it down the sink.

Amazingly, the creamy, sweet mix was…satisfying. I could have said that it actually was kind of delicious but after years of poking fun at Rachel's habit of "tainting" her coffee, I held my tongue. Of course, when I quickly downed the whole thing, my perfidy was pretty much exposed anyway.

"Maybe you're pregnant," Rachel joked.

"Who's pregnant?" two voices called out simultaneously from the front entrance.

"Hailey," Rachel explained to Chelsea and Daniel, who managed to catch only the last part of our conversation.

Chelsea and Daniel seemed unfazed by the pronouncement. "Don't you have to have sex to get pregnant?" Daniel queried.

"So I've been told," I snapped back.

"Hailey just knowingly drank coffee with cream and sugar," Rachel proclaimed with mock horror.

Smiling, Chelsea pointed out that the other likely explanation was that it could be a sign of the impending apocalypse.

"I thought the Cubs winning the pennant is the sign of the impending apocalypse," Daniel piped in.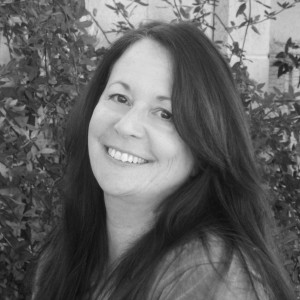 About the Author:
M.L. Ryan is a professional woman – not that she gave up her amateur status, but rather that she is over-educated with a job in which she spends a lot of time writing dry, science non-Fiction. In an effort to strengthen the less logical side of her brain, she decided to write some of the many stories rolling around in her head. She lives in Tucson, AZ with her husband, son, four cats, two dogs and an adopted Desert Tortoise.
Website:
http://www.CoursodonDimension.com
Blog:
http://CoursodonDimension.blogspot.com
Facebook:
http://www.facebook.com/CoursodonDimension
Twitter:
@MLRyan1
Goodreads:
http://www.goodreads.com/author/show/3384189.M_L_Ryan
Buy the book at
Amazon
,
Barnes and Noble
,
Smashwords
,
iTunes
, and
Kobo
.