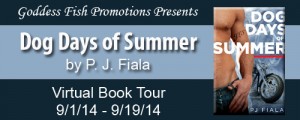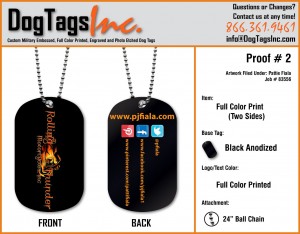 This post is part of a virtual book tour organized by
Goddess Fish Promotions
. P.J. will be awarding a rack card with Dog Tags to FIVE randomly drawn winners via rafflecopter during the tour, and a Grand Prize of a Kindle Paperwhite loaded with books from fellow authors to a randomly drawn winner via rafflecopter during the tour. Click on the tour banner to see the other stops on the tour.
Welcome to It's Raining Books, P.J. Why do you write in your genre? What draws you to it?
I love romance. I love, love. I love a book about a couple trying to work through issues, commitments, family, exes, and all the other issues that can hamper a brand new relationship and being there while they work it out. There is nothing better to me than reading a book about a fantasy man and woman and being there for their first kiss, their first sigh, the first time they make love. That, is amazing to me and inspiring in a world so full of hate. I hope my readers love it too, because I have dozens of stories running around in my head about love.
What research is required?
The reader needs to feel like they are right there with the characters and that the characters are real. That's so necessary. To research places your characters will eat, live, play and work is so important because you need to describe where your characters are. I think a fantasy place is harder than a real place. At least if you are in a real city, the streets are all named and the buildings are all there. All you need to do is visit it and take pictures. But, a fantasy, you are creating everything. Nothing needs to be left out.
Name one thing you learned from your hero/heroine.
Patience. Jeremiah (Dog) Sheppard knows as soon as he meets Joci that she is something special. She thinks the same about him, but she isn't willing to jump into a relationship. She holds back, because of fear. Jeremiah is patient with her, more than I ever could be with a person.
Do you have any odd or interesting writing quirks, habits or superstitions?
Well, my husband and I are bikers and I find that taking a bike ride really helps me think. When I'm stuck or things aren't flowing, climbing on the motorcycle will always clear my head and get me back on track. Helps me with new ideas too, not sure how that works, but it does.
Are you a plotter or pantser?
I'm not sure what a pantser is. If it means do I fly by the seat of my pants, I have to admit, that would be me. I can't stay within rigid boxes, I need to zoom out and then back in. Make sense?
Look to your right – what's sitting there?
My coffee table. I'm laying on the floor, the television on, writing this out. I always lay on the floor while watching television. I think it's from my childhood, we weren't really allowed on the furniture, so, I lay on the floor.
Anything new coming up from you? What?
Dog Days of Summer
is the first book in the
Rolling Thunder Motorcycle
series, so the next book,
Rydin the Storm Out
, is about Ryder Sheppard, Dog's son. That is just now coming back from beta readers with positive comments. I'm excited to bring it to my readers.
Do you have a question for our readers?
What do you prefer? Drama or no drama? Lots of angst or a little angst? Paranormal or human?
Owning Rolling Thunder Motorcycles, Inc. and raising his twin sons was top priority in Dog's life. That was until he met Jocelyn James, the sweet, loving, single mother of Gunnar, a young man who works for Dog.

Joci raised Gunnar alone all of his life after her cheating, dickhead of a boyfriend ran off with another woman. She finished school, started her own graphic design business and hung out with friends and family. The last thing on her mind was men! That is until she met Dog.

The chemistry is undeniable. The passion is incredible. The family bond is like no other.
Enjoy an excerpt:
There were times like this when Joci wanted to burst out laughing it felt so good. The wind in her face, running through her hair, the sun warming her skin, the roar all around her, seven hundred-plus pounds of pure unadulterated power between her legs, and she was controlling it all. Gliding through traffic with her son, Gunnar, just a few yards in front of her, feeling all the love and joy God made for her, just her. Yes, these were the times Joci enjoyed. She smiled as they came up behind a car and floated over to the left lane to pass. As she watched, Gunnar glided easily past the car, his dark hair pulled into a low ponytail, the two little kids in the back seat watching him and smiling at each other. You could tell they were thinking, Someday, I'm going to do that. Then as she pulled up alongside to pass them, they started smiling and pointing at her, one of them turning to the adult in the front seat and saying something causing the driver to look over at her as she passed him. He smiled at her, and Joci smiled back at the reaction; it happened often. She could almost hear the kids in the back: Look dad, a girl on a motorcycle.

She easily pulled in front of the car and continued on down the highway to their destination. She loved this life, this group of people that she had, at least, this in common with. A few minutes later, Gunnar and Joci put their turn signals on to turn off the highway, onto a frontage road, and into the parking lot of Rolling Thunder Motorcycles. They navigated the last few shoppers straggling out at the end of the day.

Gunnar worked at Rolling Thunder Motorcycles as a mechanic for the past year. He loved working here. He loved the people he worked with, he loved the customers and their bikes, he loved building bikes, and lately Dog had let him help in the design on some of the custom bikes they were known for. And well-known they were becoming. Dog built some of the hottest bikes around. He had recently been in Rider magazine, and showcased on several "biker" shows. His reputation for building beautiful, custom, mechanically sound bikes was becoming legend.
About the Author: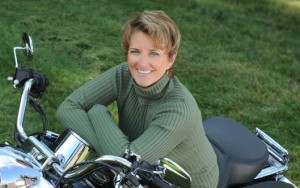 I was born in a suburb of St. Louis, Missouri named Bridgeton. During my time in Missouri, I explored the Ozarks, swam in the Mississippi River, and played kickball and endless games of hide and seek with the neighborhood kids. Spending summers in Kentucky with my grandmother, Ruth, are the fondest childhood memories for me.
At the age of thirteen, my family moved to Wisconsin to learn to farm. Yes, learn to farm! That was interesting. Taking city kids and throwing them on a farm with twenty-eight cows purchased from the humane society because they had been abused was interesting. I learned to milk cows, the ins and outs of breeding and feeding schedules, the never ending haying in the summer, and trying to stay warm in the winter. Our first winter in Wisconsin we had thirty-six inches of snow in one storm and were snowed in our house for three days! Needless to say, I wasn't loving Wisconsin.
I am now married with four children and two grandchildren and a new one on the way this summer. I have learned to love Wisconsin, though I still hate snow. Wisconsin and the United States are beautiful, and my husband and I travel around by motorcycle seeing new sites and meeting new people. It never ceases to amaze me how many people are interested in where we are going and what we have seen along the way. At every gas station, restaurant, and hotel, we have people come up to us and ask us about what we are doing as well as offer advice on which roads in the area are better than others.
I come from a family of veterans. My grandfather, father, brother, two of my sons, and one daughter-in-law are all veterans. Needless to say, I am proud. Proud to be an American and proud of the service my amazing family has given.
Website ~ YouTube ~ Facebook ~ Street Team ~ Twitter ~ Pinterest ~ Goodreads ~ Amazon Author Page ~ RebelMouse ~ Google+
Follow the links for the playlist:
Second Chances
a Rafflecopter giveaway